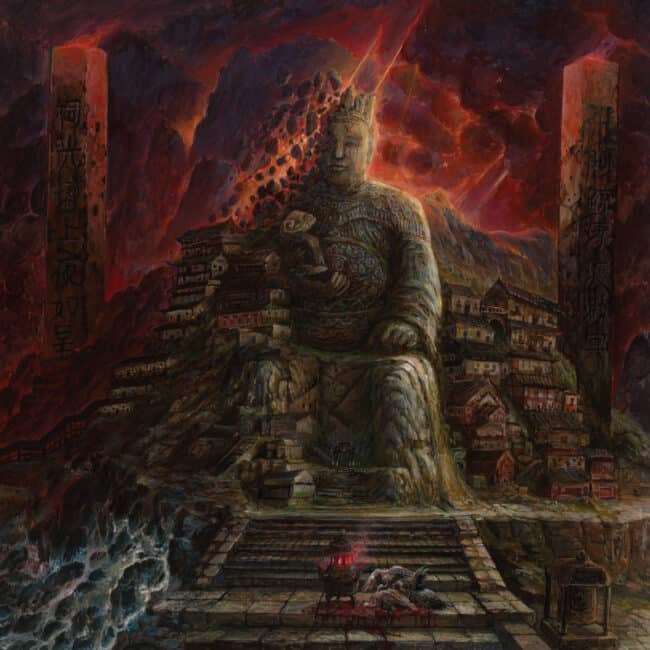 With a utter growl from the very depths of the seven gates of hell and a mesmerizing guitar riffing this "Jubian" has started. Ripped to Shreds showcase their power anbd ability to conjure each tormented soul from the depths of purgatorium. Isn't it beautiful? I guess it is. What the band promises with album welcomer track "Violent Compulsion for Conquest" they deliver. "Jubian" has that innate band natural malevolence that surrounds great Metal bands. An album with the true colors of evil in each detail, in each moment, in each passage. Through hell… and back.
Speed is really something that is impossible to tell here with the album due to the out of the blue changes of pace and cadence. The album goes from the more than the eye can see to a mesmerizing slow pace that makes the fan stars. Vocals here are a story completely apart. From the utter growl from the very depths of the seven gates of hell to the mumbling yells of the souls in purgatory. Andrew Lee's voice is really out of this word. The guy's voice has this ability of standing out from the crowd of guttural vocals that each Extreme Metal seems to be obliged to have. Really something to remember. All this wrapped by a mass of a Blackened Death Metal instrumentals with all the variations that the modern version of it allows as "Peregrination to the Unborn Eternal Mother" shows to my child of the night. The ten minute "In Solitude – Sun Moon Holy Cult Pt 3" tells a lot more. I strongly sugest my dear child of the night to start up with this track. It shows a lot about the album and the band. The grand finale "Scripture Containing the Supreme Internal Energy Arts that Render the Practitioner Invincible Throughout the Martial Realm" is shorter than its tittle. So that is, an album of contrasts; a track with more than minutes and a track shorter than its tittle. By the way, all tracks have long tittles.
"Jubian" is an album that stands out from the crowd. Some tracks as the long "In Solitude – Sun Moon Holy Cult Pt 3" tells have the taste and the punch of 1980's Extreme Metal but with a modern wrapping. As a rule, the album travels throught Metal music showing lots of influences with sharp and precise guitar interventions.
Ripped to Shreds "Jubian" will be released on October 14th via Relapse Records.
Track Listing:
Violent Compulsion for Conquest
Split Apart By Five Chariots
In Solitude – Sun Moon Holy Cult Pt 3
Harmonious Impiety
Race Traitor
Reek of Burning Freedom
Peregrination to the Unborn Eternal Mother
Scripture Containing the Supreme Internal Energy Arts that Render the Practitioner Invincible Throughout the Martial Realm
Watch "Reek of Burning Freedom" official music video here: