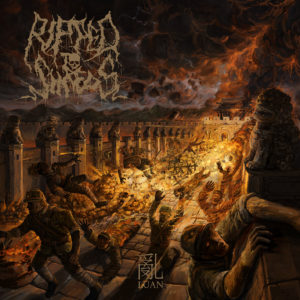 Here we have Ripped to Shreds with "Luan" the following full length to 2019's EP "Demon Scriptures." I always say that it's such a pleasure when I have the opportunity of review a following album of a band. The occasion of comparing one album to another is tempting and often neglected, but I won't pass it by. It's too tempting and I'm of a weak personality when it comes to using everything I can to write reviews.
"Luan" doesn't easy a bit the torturing skullcrushing destroying pieces of the raw vigorous Death Metal and battle hymns they wrote back in "Demon Scriptures." In fact, both albums are somewhat linked for "Luan" seeming to be a step ahead in terms of instrumentals and songwriting. It's not that the music herein got any inch softer. It's the other way around, it gets more furious and pounding, though the instrumentals got more neat, more polished in a certain way. Vocals are still blustering with a wrath hardly seen, but instrumentals are somewhat more precise. The musical chaos seems to be under strict control and Ripped to Shreds managed the way to sound even more aggressive but with some finesse. Listen to the final instrumental passage in "Massacre at Blackwood Cliff – Sun Moon Holy Cult Part 2." Drumming is still wild and savage as the fan can notice by following track "Ripped to Shreds" – is it a homage to the band? Another piece? "Remnants" has some breaks that almost sound as if Ripped to Shreds were trying to be a Technical Death Metal band – in their own way, of course. But what sparks the most is that guitars are perfectly clear and audible not hiding any note that could show a flaw in everything. It takes lots of guts to do that in a ferocius act as Ripped to Shreds, if you ask me.
I certainly don't understand critics that badmouth a band that doesn't change from an album to the other album. To me it's a proof of strong character – unlike me when it comes to writing reviews. On the other hand, there critics that badmouth a band when it changes. Go figure.
If you liked "Demon Scriptures," I'm really sure you will enjoy this "Luan." Take my word.
Ripped to Shreds "Luan" will be released on April 17th via Pulverised Records.
Track Listing:
Intro
Righteous Fist to the Teeth of the Wicked
白骨精 (White Bone Spirit)
Eight Immortals Feast
Throes of a Dying Age
Interlude
Opening Salvo
黑木崖: 日月神教第二節 (Massacre At Blackwood Cliff – Sun Moon Holy Cult Part 2)
Ripped to Shreds
Remnants
Watch "Opening Salvo" official lyric video here: