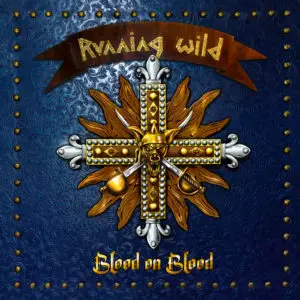 There are days in the life of a reviewer that all we want is an album with all the comfort of a band that we've known for a zillion years. The wish is to put in our players to listen to some music that will trigger many affective memories of the distant past of our lives. The kind of memories that comfort and warm your heart in a cold and rainy day. Not an album to think it over again and againg trying to figure what to write and what to feel. Those are the days of an intense lazyness mixed with some nostalgia. The days when the most exciting new band with the newest cool style will never reach the comfort of a band of your heart and affective memory.
Ok, so much for the mystery. Yes, the band I'm talking about is Running Wild, a band I had the pleasure to run into in the distant year of 1986 and whose previous album "Crossing the Blades" I had the pleasure to review a few years ago. If my dear fan pays close attention – well, it doesn't need to be that close – and look to both albums covers the impression that will rise is that both are pretty similar. Well, I guess it's because they really are. So is the music. After some deceptions and errors – I'm not allowed to quoted them all here. Too strong deceptive memories for me – mastermind Rock'n'Rolf Kasparek decided to come back to what he konws better which is the kind of Old School Teotonic Heavy Metal that fans love and cherish. Some piracy themes, blood and boats, swords and cannons and everything from the sort. "Blood on Blood" is the album the fan Running Wild got the heart in the late 1980's with their piracy years is used to. No secrets, no surprises. No, not of the sort. Just simple and plain Running Wild of the golden years. Songs to singalong and air guitar the guitar solos and twins. Each by each and little by little across the ten tracks of the album. Tracks with tittles from previous albums as "Crossing the Blades" are simply what the fan wants to get. It's impossible to not singalong the chorus and air guitar. The only thing I regret is that Running Wild didn't rescue the mood from their debut album. But nobody is perfect, not even the bands we love.
I don't why sometimes bands complicate so much. Life is easy. "Blood on Blood" is comfortable and its merit comes from this comfort. Ok, maybe some may say that it's more of the same. And I'll reply "So what?". Just give me more.
Ah, almost forgot. There is a kind of a surprise in "One Night One Day" and its 1970's mood. There is some kind of Slade feeling in the guitars.
Running Wild "Blood on Blood" will be released on October 29th via Steamhammer / SPV Records.
Track Listing:
Blood on Blood
Wings of Fire
Say Your Prayers
Diamonds & Pearls
Wild & Free
Crossing the Blades
One Night, One Day
The Shellback
Wild, Wild Nights
The Iron Times (1618 – 1648)
Watch "Diamonds & Pearls" official lyric video here:
.