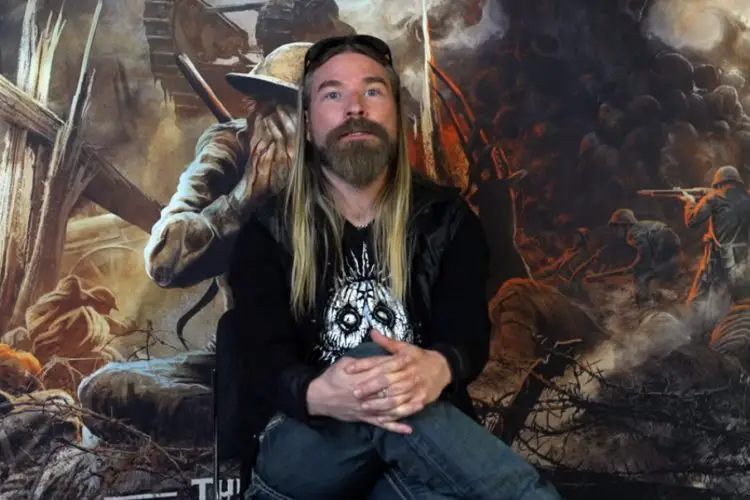 In a new video by Nuclear Blast, SABATON bassist Pär Sundström was asked to single out his favorite bass players of all time.
He said: (as transcribed by Ultimate-Guitar.com): "Originally, I was more interested in the singers – those were my idols and singers when I was younger. Lately, since playing bass myself, there are a couple of those that have been long-lasting and very inspiring in my life."
He continued: "I would say that Steve Harris of IRON MAIDEN would be a very inspiring person, and the entire Iron Maiden has been very inspiring for SABATON and what we are today.
"Another one would be Markus Grosskopf from HELLOWEEN, who is constantly on the stage for all these years, running around looking like he's having so much fun as he used to probably the first time he ever held a bass guitar. I find that very inspiring and that's something that I try to do myself."
SABATON has released their ninth full-length studio album, The Great War, on July 19 via Nuclear Blast Records.
The band has started the recordings exactly 100 years after the end of the First World War (11/11/1918) and took 3 months of intensive work to complete the album together with their long-term producer and partner  Jonas Kjellgren at Black Lounge Studios. Furthermore, the album has been mastered by Maor Appelbaum and the artwork was once again created by Peter Sallai.
Side by side with the album, the Swedes have worked hard to make their 20th anniversary a very exciting year, and also started the SABATON History Channel – a unique collaboration between the band themselves and multimedia historians Indy Neidell and Timeghost, capturing the power of social media to tell stories about the wars, battles and heroes behind SABATON's songs.