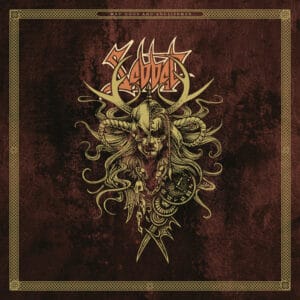 Here we've got another one of the most awaited promotions we generally get here. It's the now regular box set of albums that we've been receiving for some time. Now it's the time for the legendary British Thrash Metal pioneers Sabbat with "Mad Gods And Englishmen" a box set of four CDs covering the initial years of the band from 1988's "History of a Time to Come," 1989's "Dreamwaeavers – Reflections of Our Yesterdays," 1990's "Live in East Berlin," and "BBC Radio 1 Friday Rock Show Session" which is previously unreleased. Even though I was a contemporary of the golden age of the band, I never had the pleasure of listening to any album of them. Now some info about the band and the box set.
Starting as Hydra in June 1985, with vocalist Martin Walkyier, bassist-Fraser Craske and guitarist Andy Sneap, it was the arrival of drummer Simon Negus that coincided with a name change to more rounded Sabbat. Two demos, "Magik in Theory and Practice and Fragments of a Faith Forgotten" got the young band a significant buzz (especially in Kerrang! magazine and on BBC Radio 1's – Friday Rock Show), and a deal with Noise Records. Their debut album, 1988's "History of a Time to Come" underlined a sharp potential and by the end of that year, they'd become a permanent five-piece, with the addition of ex-Holosade guitarist Simon Jones. All of which set up what should have been the big international breakthrough, with second album "Dreamweaver: Reflections of Our Yesterdays." 
The writing duo of vocalist and lyricist Martin Walkyier combined with the song-writing prowess of guitarist Andy Sneap (now a producer in his own right and guitarist in Judas Priest) were ahead of their time and created two of the most significant albums of the late 80's. This box set contains both these seminal studio albums plus a recently found Radio 1 session that preceded them, unavailable since its original broadcast in 1987.
Completing this collection is their historic performance at the Thrashing East Live concert in East Berlin from 1990, just as the iron curtain fell. It's presented here on DVD for the first time and also as an album of the show which is released in its entirety for the first time, including a song left off the DVD. This is all finished up with a double sided poster and book containing all of the eloquent lyrics from these songs.
What my dear child of the night will find in here is a ferocious Thrash Metal band thristy for blood as no band is nowadays. It seems to me that time has vanished most of the power, the anger, the wrath, and the rebellion of most bands. Well, thinking of it, to be fair with today's bands Thrash Metal lost much of its appeal as well. Thrash Metal bands felt harder the passage of time than other Extreme Metal styles as Death Metal or Black Metal. For some it's a blessing, for others a curse. I, particularly, like them better now. I really don't know if I would like them back then. The album I chose to review their 1988's debut "History of a Time to Come" sounds now pretty fresh to me even though many things I hear now have that "I heard that before" taste. However, knowing the band's career everything makes sense.
Sabbat "Mad Gods And Englishmen" will be released on May 19th via Noise Records.
Track Listing:
Intro
A Cautionary Tale
Hosanna in Excelsis
Behind the Crooked Cross
Horned is the Hunter
I for an Eye
For Those Who Died
Dead Man's Robe
The Church Bizarre
Watch "A Cautionary Tale" video here:
1742