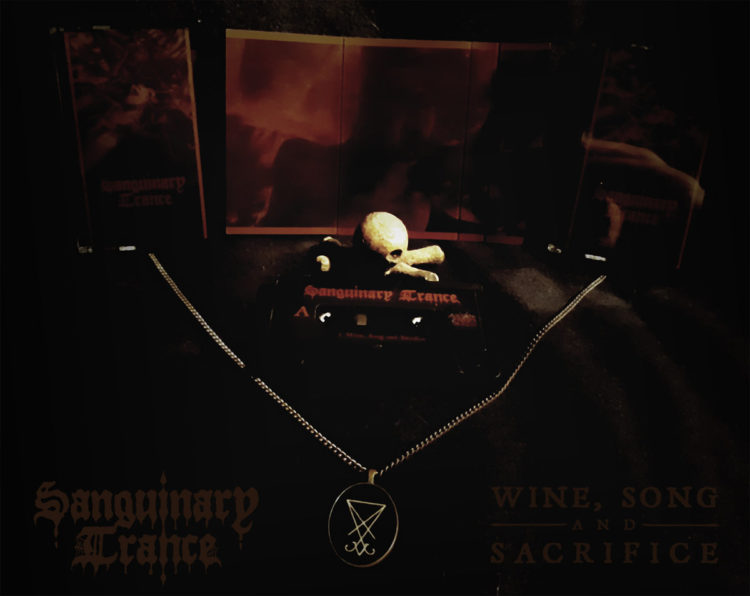 Sanguinary Trance are a Black Metal project from Vienna/Austria, founded in 2013 after several years of stylistic experimentation in various other outlets. Four more years were spent writing and refining the material that would become the debut EP "Wine, Song and Sacrifice," which was released in digital format and on cassette in 2018.
"Wine, Song and Sacrifice" contains three songs of frantic and melodic Black Metal, firmly rooted in the traditions of 1990s second wave BM. Each song follows its own path: After the epic title track with its narrative structure and twisted melodies, "Carvings" shows a colder and more rigid approach and "The Dionysos Whip" dissolves in dissonant chaos and psychedelic experimentation.
In accordance with the musical shifts, the lyrical contents deal with various different paths towards the devil: sin and ecstatic violence in "Wine, Song and Sacrifice," the immediate sensation of being possessed in "Carvings," wordless chaos and dissolution in "The Dionysos Whip." The lyrics are based on personal experience and interpretation and do not follow any given path; the title track takes influences from Georges Bataille and the O9A though, both of which have been a huge source of inspiration in general.
"Wine, Song and Sacrifice" was recorded from september to december 2017, mixed from january to april 2018 and mastered in june 2018. The sole member behind Sanguinary Trance prefers to remain anonymous, yet some people involved in the recording process are worth mentioning:
S. Spulak – Session drums
Lanz (Amestigon, Der Blutharsch and the infinite church of the leading hand) – Guest solo and additional lead guitars
Kark (Dødsengel) – Mastering
Read our review here.