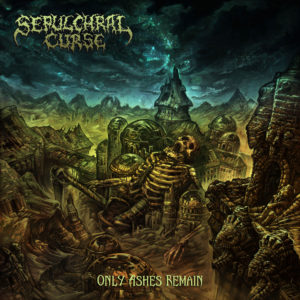 It's virtually impossibe to go wrong with Death Metal. Even more if the album is from Transcending Obscurity Records which has the crème de la crème of Death Metal bands. Most of them obscure to many, but isn't it the heart of Death Metal to be obscure?
As the fan knows, we here with Metal Addicts have a schedule of releases that I try to follow it strictly. We try the most to respect our partners and our fans publishing the reviews on the right time. Of course, crap happens sometimes and it's impossible to manage it, but we do our best indeed. With that in mind I selected a band to listen and to write about, but I really didn't like it. As time is a precious resource, I chose the security mode which is get the Death Metal band! One can never go wrong!
And here we are with Sepulchral Curse "Only Ashes Remain." At first the album sounds pretty standard which in the case is a very good thing. But when the details are perceived, things change a lot. Well, somebody said that the devil is on the details, isn't it? Little by little "Only Ashes Remain" gains the fan with its instrumental prowess and diversity. It bothers me a lot to know that some still think that Death Metal is simple and with no diversity. The truth is that vocals might not vary a lot, but the instrumentals in the background struggle to get the fan by the heart and soul. Sepulchral Curse aren't a band of virtuosi in their instruments, but the band is very, but very, competent.
As I said before, "Only Ashes Remain" kicks off with "From Within the Bowels of the Earth" a straight ahead track that starts fast and furious but cools down on the way with very interesting guitar licks and some amazing twin guitars. That's a hint of how Sepulchral Curse will manage their music until the end. However, the best of the album is in the background with some very interesting instrumental constructions as in "Swarming Blackness" and the drumming contrast with the guitars. It's impressing hiw the band manages so many changes of tempo and cadence in the same song. Those are the details. The same way goes "Into the Depths Unknown" and its insane tempo.
The great things about "Only Ashes Remain" are in the hidden details. The fan must pay close attention to all tracks to pass a fair judgement about the album and the band.
Sepulchral Curse "Only Ashes Remain" will be released on July 31st via Transcending Obscurity Records.
Track Listing:
From Within the Bowels of the Earth
Swarming Blackness
Into the Depths Unknown
Eyes Inside
Church of Loss
Dead Stars Drawing Spirals
Maan Tuhkien Uneen
Watch "Dead Stars Drawing Spirals" official video here:
932