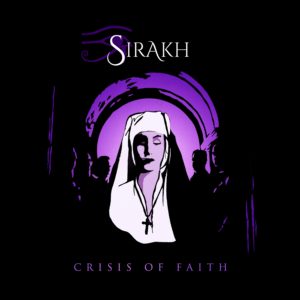 An exquisite album. It's really hard how to explain how an album can attract me. De rigueur, this album could never attract me. It's a bricolage of alternative, industrial, and gothic all embellished with pop melodies. The pastiche of all those influences is very clear in "Crisis of Faith" and all, but, frankly? It got me. It really got me. Maybe, just maybe, it was this pop approach that gave the album the perfect wrapping and made it palatable to me.
There's some time I've noticed that many Metal bands are making a real hodgepodge of influences in their songs. I mean, they are mixing lots of Metal and other genres influences into their music. Of course, this isn't a new thing, but the way they're doing it is breathtaking. For instance, opening track "Yours for the Breaking" kicks off with some pretty Metal riffing to suddenly mix some electronic effects and things. The effect is great, as I always say, due to the contrast of both effects. At first, they don't seem to fit, but at the end, they melt and sound as one. In fact, opposed to common belief, both features function together as one, and that's the best thing Sirakh do here in "Crisis of Faith." They manage a way of mixing the efforts to them function together in the song not as a separate thing as they sound sometimes. As it's expected in this kind of album, there are a lot of influences of Evanescence and it gets more clear due to Marina Trench's voice. Not that it's similar, but it reminds a little. The melt goes on in all tracks.
In this very particular case, the name of the album "Crisis of Faith" can be perfectly applied to the band as they seem to be divided into both masters Heavy Metal and Goth or else. To be fair with the band, I almost stepped down from this album at first. This kind of mix is as instable as nitroglycerin. The balance of the elements must be perfectly balanced otherwise they don't work together. I was caught by the intro of track one and then I saw myself keeping comfortable with other tracks. It's an album that catches the fan. Some may think too pop, some may thin too Metal and life goes on…
Sirakh "Crisis of Faith" was released on January 22nd via WormHoleDeath.
Track Listing:
Yours for the Breaking
Tear Me to Shreds
Heart of Fire
Love Like Blood
Downfall
Grown Apart
Mirrors
New Black
Violet Dawn
The Devil's Mark
Watch "Yours for the Breaking" official lyric video here: