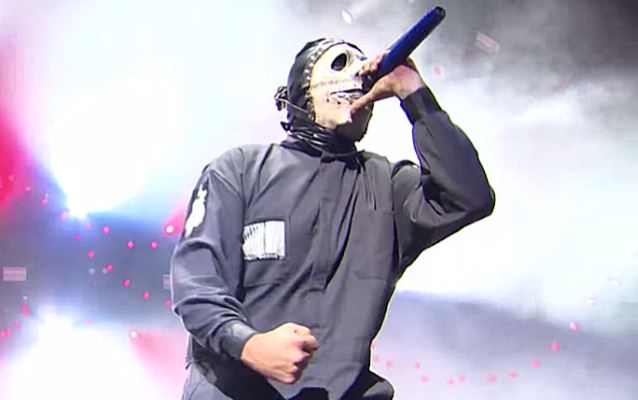 In a new legal documents obtained by MetalSucks from the ongoing court battle between SLIPKNOT and former percussionist Chris Fehn, SLIPKNOT's business manager Robert Shore has filed a motion rebutting Fehn's amended complaint and insisting that the case against him should still be dismissed.
A legal expert speaking to MetalSucks has told them that current laws allow Fehn to submit just one amended complaint without explicit permission from a judge. And now, the judge Melissa Anne Crane must now decide whether to dismiss the case or not based on the evidence already presented by both sides. If the motion to dismiss is denied, the case will proceed to court.
These are excerpts from Shore's latest motion:
"Contrary to plaintiff's apparent belief that his repackaged, "amended" complaint cures the defects plaguing his initial complaint and moots Defendants' pending motion to dismiss [it does neither], it suffers from the same incurable defects as its predecessor […]

"Having previously asserted a single cause of action against RSA and Shore seeking an accounting based on an alleged breach of fiduciary duty, Fehn now separates this claim into two causes of action [i.e., Counts "IV" and "V"], but repeats the fatal flaws of his original pleading. His "amended" claims must be dismissed because:

"(1). no cognizable cause of action is alleged against Shore;
(2). Fehn falls short of CPLR §3016's pleading requirements;
(3). the relationship alleged in the complaint is a routine business relationship, and a cause of action for an accounting cannot lie; and
(4). Fehn neither alleges nor establishes the absence of a suitable legal remedy.

"Fehn is under the misimpression that filing a manufactured, "amended complaint" that simply repackages his initial complaint, moots Defendants' pending dismissal motion. However, because that motion challenges the merits of Fehn's claim, it is not mooted by an amended pleading […] Filing an essentially duplicative pleading neither cures the substantive defects in Fehn's claims nor relieved him of his obligation to address Defendants' initial motion."
The next court date is scheduled for July 26th.
An attorney for Fehn says that he was forced to take legal action against his former bandmates because he was presented with a contract that would have effectively relegated him to "second-class-citizen" status.
Attorney Joel B. Rothman told Rock Feed that Fehn was denied access to information about SLIPKNOT and its business during negotiations about the band's upcoming sixth studio album and accompanying tour.
In his lawsuit, Fehn claims to have always been told that the money from merchandise and touring is funneled through one sole company that splits profits and pays the members of the band. However, Fehn claims he recently discovered that his bandmates have set up several other SLIPKNOT-affiliated business entities in different states that appear to be collecting money from the band.
SLIPKNOT have refused to reveal the identity of the new member, who is replacing Fehn, but some fans on Slipknot Reddit had speculated that Zach Hill is the new percussionist, and said they saw him at Jimmy Kimmel Live.
The band will release their sixth studio album, We Are Not Your Kind, on August 9 via Roadrunner Records.