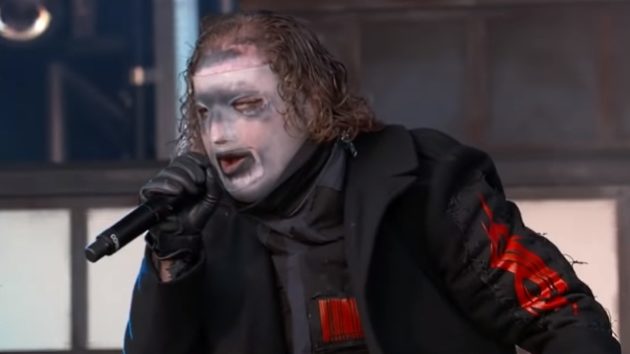 In a recent interview with iHeartRadio, Corey Taylor talked about his new SLIPKNOT mask on which he working with special effects legend Tom Savini, whose extensive career in the film industry and especially the horror genre dates back to the late 1970s, including in such films as "Friday The 13th", "Dawn Of The Dead", "From Dusk 'Til Dawn" and many others.
He said: "It's disturbing. That's kind of what you go for, really.
"Everybody was complaining about it at first. And they were, like, 'It's hard to look at.' And I was, like, 'That was the point. I didn't want you to be comfortable looking at it, man.' I'm not up here trying to look like My Little Pony or anything like that," referring to the toy line and media franchise mainly targeting girls. "It's ridiculous. Nothing against the Bronies [adult male fans of My Little Pony]. It's a strong organization."
Corey previously told Kerrang! about the inspiration behind the new mask: "I'm reminded that even though you want the best for people, sometimes you'll get the worst. I've been kind of made to feel like a villain, in a weird way. Which is fine. It was inevitable, and it doesn't really bother me much. But, for a little bit, it did. I've always tried to be a good father, be a good man, be a good person.
"I went through some sh*t a few years ago, and in that time a lot of people had a reversal of opinion on who I was. Maybe it was because they were tired of hearing my name [laughs], which is so f*cking true — even I get to the point where I'm tired of hearing my own f*cking name."
He continued: "I said, 'Okay, if you want a villain, you'll get a f*cking villain.' My vision was about trying to create something uncomfortable — not only for me to wear, but for people to look at. I wanted it to feel like it was something that was created in someone's basement — something that was made specifically to f*ck with people. It's the representation of public opinion turning on a dime — they want to tear people down for the way they live, even if they don't really know them. It's been liberating to embrace that side and be, like, 'F*ck you. I really don't give a sh*t what you think about me, so here's this!'"
SLIPKNOT has recently unveiled details of their very own craft spirit, No. 9 Iowa Whiskey, which will be available this summer at select retailers in all 50 states and at the band's headline Knotfest Roadshow North America tour. A collaboration with the Iowa-based Cedar Ridge Distillery, No. 9 Iowa Whiskey (90 proof) and No. 9 Reserve Iowa Whiskey (99 proof) are made with corn from the award-winning distillery's family farm in Winthrop, Iowa.
SLIPKNOT will release their sixth studio album, We Are Not Your Kind, on August 9 via Roadrunner Records.
In March, SLIPKNOT announced the departure with the percussionist Chris Fehn after he filed a lawsuit against his band members over unpaid loyalties.
In his lawsuit, Fehn claims to have always been told that the money from merchandise and touring is funneled through one sole company that splits profits and pays the members of the band. However, Fehn claims he recently discovered that his bandmates have set up several other SLIPKNOT-affiliated business entities in different states that appear to be collecting money from the band.
SLIPKNOT have refused to reveal the identity of the new member, who is replacing Fehn, but some fans on Slipknot Reddit had speculated that Zach Hill is the new percussionist, and said they saw him at Jimmy Kimmel Live.