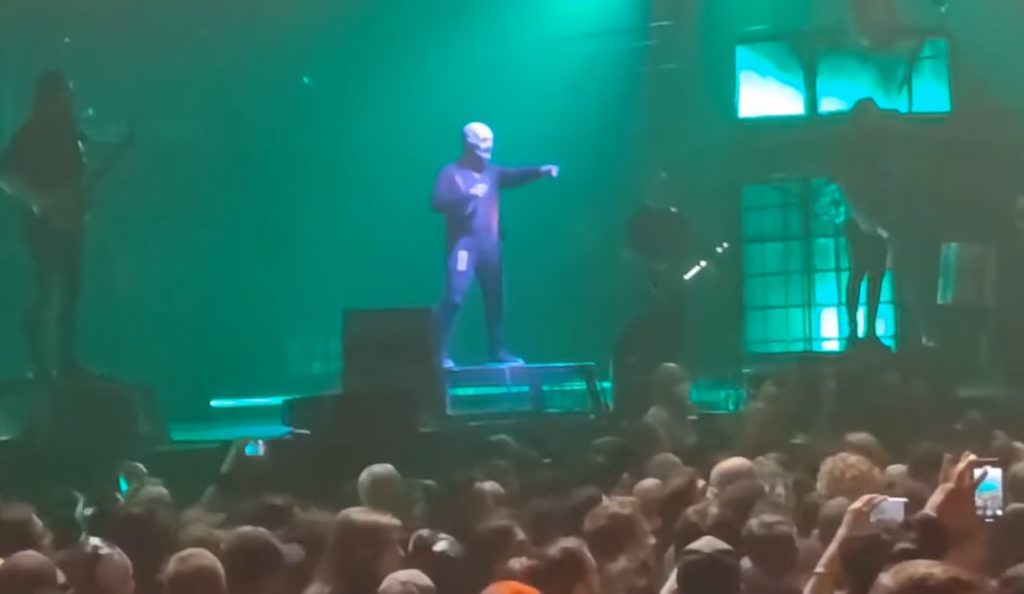 During SLIPKNOT's concert this past Monday (April 11) in Winnipeg, Manitoba, Canada, Corey Taylor stopped the show mid-song in order to alert paramedics to a fan who had fallen in the pit.
A video of Taylor addressing the audience during the show at Canada Life Centre can be seen below. In the clip, Corey can be heard saying: "All right, guys. Make sure they got room, make sure they got room. Everybody back up. Give them room, give 'em room… Here we go. Okay. Hold on. Everybody make room. Everybody back up. Come on. Make some room. They can't breathe if everybody's around them."
"Hold on, guys. No applause yet," he then continued. "I wanna make sure that they're okay. I wanna make sure that they get out of the pit 100 percent okay. Hold on one second, guys. I appreciate that."
Corey added: "All right. He's out, guys. Make some noise for the medics… Let's make sure they get out. We've got a clear path right here. As soon as they're safe, we're starting this f**king thing again. Are they good? Okay. Should we just do it from the top? Okay. Do it from the top. You ready?"
Dates and tickets for SLIPKNOT's ongoing "Knotfest Roadshow" can be found at this location.
During a recent appearance on Eddie Trunk's SiriusXM Trunk Nation With Eddie Trunk, SLIPKNOT singer Corey Taylor offered an update on band's follow-up to 2019 We Are Not Your Kind.
"The artwork's done," he said. "We just came up with the title. I'm not gonna tell you it right now. But we're really stoked.
"It's really killer, man," Corey continued. "It's darker than We Are Not Your Kind, but there's a ton of melody. I've been telling everybody that it's like a heavier version of Vol. 3. It's got so many textures and layers. The heavy stuff has attack but the melodic stuff you can just sink your teeth in; there's a lot of great melodies and hooks. I'm really, really excited for people to hear it."