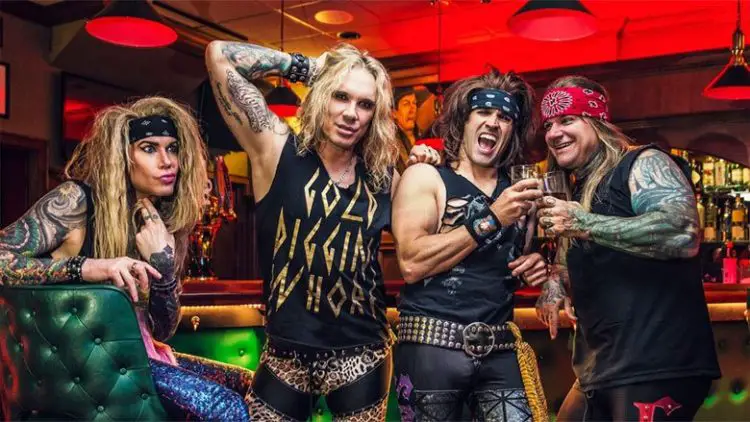 Almost 6 years after signing a "cessation of touring" agreement, the MÖTLEY CRÜE contract is off the table because a whole new generation of Crüeheads are relentlessly demanding for the band to come back together. Following the huge success of their Netflix biopic The Dirt, MÖTLEY CRÜE has seen a massive surge in new audience. And the band best known for breaking the rules has destroyed their cessation of touring contract in true MÖTLEY CRÜE fashion, by literally blowing it up.
 It was reported that MÖTLEY CRÜE will hit the road next year for a U.S. tour with POISON and DEF LEPPARD.
While specific dates and venues have yet to be announced, sources have confirmed to the magazine that the three acts will perform at stadiums around the country.
Speaking to The Front Row Report, STEEL PANTHER frontman Michael Starr talked about CRÜE's return, saying: "I knew it was comin'. I knew right when they signed it six years ago that this was going to happen down the road. It's just the way it is.
"They are too iconic of a band just to go away and never play again," he continued. "Even when I heard the news [they were calling it quits], I was, like, 'Really? Don't do that. That sucks.' I would understand taking a break, but… I don't know, man. I'm not in their position. They've been rocking big time for 30, 40 years.
"I've gotta be honest with you, man. I'm glad that they're coming back. And I'm glad they're touring with DEF and POISON. It's gonna be an epic tour that will get everyone excited about rock and roll and heavy metal again. And it's important. That's what we are trying to do.
"I don't know if people realize this, but MÖTLEY CRÜE retired and we kept going," Starr added. "We're not stopping trying to bring heavy metal back. And now, look — they're back. I'm not gonna say it's because of us. I'm just saying that we… F*ck, yeah, it's because of us. We're bringing heavy metal back."