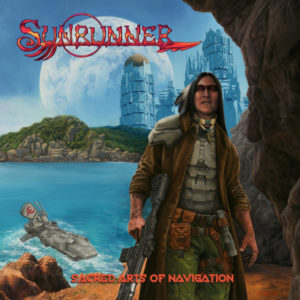 Immediately when I saw the album cover of "Sacred Arts of Navigation" I was soon addressed to a not so known band from the late 1970s and early 1980s which played a vigorous hard rock or to say it a proto Metal. The band I'm talking about is Blackfoot and the reason I reminded it was because of the native american in the cover. The resemblance is because Blackfoot were supposed to be formed only by native americans which years later I understood it was a hoax. One only member of the band had native american origins and very far away. But, don't get me wrong, Blackfoot's music was very interesting. Google them my dear fan.
Ok, Sunrunner don't brag to have native american roots but undoubtedly explore them as a thematic to their songs. On the other hand, I found them musically very similar to Blackfoot. That is, musically they are both very far from the origins. However, sometimes tracks as "Obstacle Illusion" tell me another story. From where I'm standing, they are much more related to Prog Metal than to any other Metal subgenre. But I do get it, "Sacred Arts of Navigation" has the heart of the good old 1980s Heravy Metal. By the way, have I ever said anything about record companies agreeing on releasing many albums of the same genre in the same day? I guess I have but whatever. It's impossible not to remember Iron Maiden in tracks as the instrumental "Dragonship" just to quote only one. But the guitars have other svery different overtones. Interesting fact about "Sacred Arts of Navigation" is that the guitars have that overtone that I like a lot. Maybe bands are also agreeing on releasing their albums in the same day. Maybe, maybe not.
Here we have an album that may sound great only to 1980s Heavy Metal fan, but don't get me wrong, "Sacred Arts of Navigation" is an album for metallers who like diverse bands' sonancies as Ritchie Blackmore's Rainbow or Iron Maiden and the aforementioned Blackfoot. Also, it's an album with lots of 1970s Prog Rock finesse and fine musicianship as it can be seen in tracks as in "Last Night in Tulum." Nice album to listen in a cold rainy night by the fireplace. Have I mentioned with the person you love? Nevermind.
Sunrunner "Sacred Arts of Navigation" was released on March 11th via Fastball Music.
Track Listing:
The Launch
Promise of Gold
Faraway Worlds
Invisible Demon of Ideology
Where Is My Home
Acadia Morning Ride
Obstacle Illusion
Dragonship
Last Night in Tulum
No Mess, No Magic
Navigating the Apocalypse
Watch "Navigating the Apocalypse" official video here: