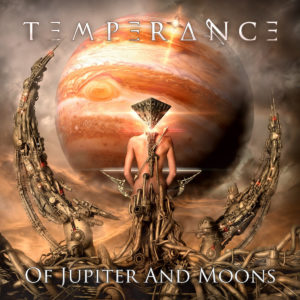 Having a guitar duo is the most common thing in HM world, but having a vocalist duo? Hum, not so common indeed. What if this vocal duo is made of a male and female voices? Most unusual yet. Can you wonder a vocal trio? No. So, I present you Temperance's album named "Of Jupiter and Moons," the places where they take us with their music.
With vocalists Temperance do go beyond in what is called symphonic power metal. Three completely different voices with different scopes and ranges allow Temperance's songwriting to focus even more on vocals aspects. Of course, it sounds obvious to say that, but it's the right time to state the obvious. Alessia Scolletti, Michele Guaitoli, and  Marco Pastorino are allowed to trade off of each other as they please. Let's say that they play with their voices due to the naturallity they sing. It requires a neat songwriting to allow it so. Yet, well-written lyrics because it's not any word that fits the singing, though fiting the writing. Song lyrics need to be both concepts: written and sang in order to function properly.
From the beginning there are instant hymns in "Of Jupiter and Moons" as first track "The Last Hope in a World Of Hopes" shows. Pay attention to song title and to the first vocal duet. Great, huh? Yeah, boys and girls, you are allowed to appreciate good music. We are Metal. Metal is about music, and good musicians. It doesn't matter if they are death/thrash/black/whatever Metal. Do that and you won't regret. But back to "Of Jupiter and Moons," shall we? Next track has that known, but still effective, power metal formula. Strong guitar riffing, keyboards to embellish it and nervous drumming. "Broken Promises" keeps the faith. Fine bass line as well. One can feel the emotional power of it. Title track begins with a short piano to suddenly burst into a more ferocious tune with a sing alone chorus.
"Of Jupiter and Moons" is an album that knows how to deal with emotion without being emotional. Temperance show to be a mature band on their fourth effort. The band seems to be working as music – oops! Of course, as I stated before, the highlight are vocals. Well, ego issue to other guys in the band, not ours. Well, I'll let Temperance's music speak. Have a good time.
Temperance "Of Jupiter and Moons" was released on April 20th via Scarlet Records.
Track Listing:
The Last Hope in a World Of Hopes
Broken Promises
Of Jupiter and Moons
Everything That I am
We Are Free
Alive Again
The Art of Believing
Way Back Home
Empires and Men
Daruma's Eyes (part 1)
Watch "Of Jupiter and Moons" official music video here: