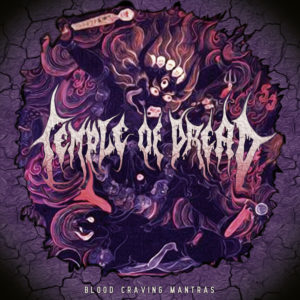 We get so used to the boo-hoo chanting crap from the vulgar press and music media that there is nothing going on, there is nothing to be invented, rock is dead, Heavy Metal is a dinosaur, on and on that we sometimes think that bands which pay a homage to the good music of the past aren't valid. My balls! Hell is full of people like you the so-called guardians of change. Blah!
All that put, it's such a pleasure to listen to a band as Temple of Dread with their fistful, ferocious, ball breaking, and feral Old School Death Metal. Their debut album "Blood Craving Mantras" is a lesson that sometimes there is nothing better than no change. Don't mess with success, once a wise man said. Nothing can be wiser. "Blood Craving Mantras" is an album that spills blood everywhere from the beginning with "8.16 AM" and its ferocious riffing and blastbeats. But who in hell minds with some blood spills? Very few I guess – and hope. Temple of Dread proudly vomit eight tracks of the purest – and most putrid – Old School Death Metal ever. Not for everybody, just for the ones who are initiated.
Besides all that, "Blood Craving Mantras" offers song with intelligent and precise guitar riffs as in "In the Backyard" where it seems the guitarists are playing in a so easily way that impresses. The speedy and pounding drumming helps a lot too.the kind of drumming that makes the drummer one with the great fitness in a band. It's a relentless hammering to your head that makes you feel a little dizzy, but still, very happy. Even happier when we pay attention to the lyrics and note that fine irony and social critique. Yeah, Metal has to bother the power. Always! Never surrender!
Yeah, my brother and my sister in Metal, Old School Death Metal still have a lot to burn. I have no doubt about it.
Temple of Dread "Blood Craving Mantras" was released on August 30th via Testimony Records.
Track Listing:
8.16 AM
Suffocate the Fire
Sentenced to Life
Question of Honour
Now You Will Die
Straying the Battlefields
Gone But Still Here
Cottage in the Backyard
Watch "Question of Honour" official music video here: