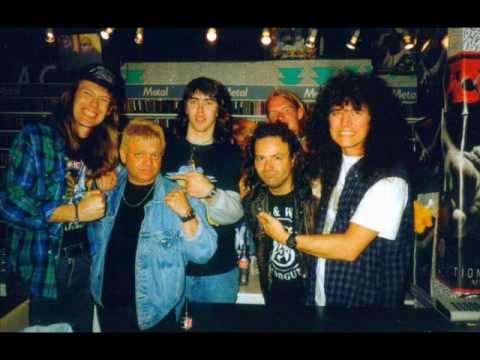 The year was 1993. Udo Dirkschneider was back to Accept after a six year hiatus with the phenomenal "Objection Overruled" which was the classic Accept with some dashes of modernity – to 1993, of course. The album put Accept on European charts again.
Many of you may be asking "Why in hell is this sicko writing about this obscure Accept's song? Its title is 'Amamos La Vida'! There is nothing to love about it. It's unfair, it's weird, it's vapid, you know? Ah, okay, it's another clickbait article."
Okay, you're right in a way. Metal isn't famous for writing about the joys of life. On the contrary, for about fifty years, Metal has been having the courage of fighting against all odds and write about all the suffering and grief there are plenty in this sad and lonely planet of ours. However, and that's the reason I'm writing about it, 'Amamos La Vida' has what I call deceptive title. In fact, and its title is very far from it, there's in it lots of nonconformism and restlessness. This lyric, besides its uncanny title, is pure Udo's era Accept's lyric. It's also signed by Deafy, the manager who was responsible for lots of Accept's lyrics. But the fine irony in it doesn't quite fit to her writing. But who knows?
It's the contradiction between the title and the lyrics that brought my attention to it. It's of a tradition in the world of song writing that the title gives the direction to the lyrics. It's really a rare thing to do otherwise. 'Amamos La Vida' is a fine piece of irony. Also a social critique that is so present in Accept's lyrics during Udo's era. Read for yourself:
Amamos La Vida
In times of peace
Times of war
The sky remains the same
You reach for the stars too far away
The one who's born in misery
Is left without a chance
But still holding on to naked life
Amamos la vida
Amamos la vida
What a time – what a place
For someone who's lost
It's hard to survive
In the jungle of life
Amamos la vida
Amamos la vida
Is there someone to hear me
Is there no one to see
Is there someone to hear me
Doesn't anybody care
A single tear in the river of life
The gods have turned their backs
Today a face – that you don't know
And tomorrow it's you
Amamos la vida
A single tear in the river of life
Amamos la vida
Amamos la vida
This song should be a great example of 'don't judge a book' by its cover because it's not only the deceptive tittle, it's also the ballad format that tricks the listener. If you don't pay attention to the lyrics, you'll be fooled by a pretty song. In fact, Udo and the guys play a trick by choosing the song tittle and format.
Social critique isn't a strange thing in Metal lyrics. It's an essencial part of the movement. Thought, bands don't like to brag or to write literally about it. Instead, they use lots metaphors and other figures of speech to express all the complex feelings life is all about. Metal's choice is to be straight ahead in terms of music, lyrics just sometimes. 'Amamos La Vida' is a strong social critique in its simple, but effective words. Moreover, the irony is very near to turn out into a mockery. Even though, I'd rather think that Accept's message is that despite all the struggles, vicious, and suffering, life is still worth living.
Watch "Amamos La Vida" video here: