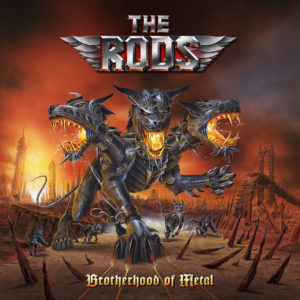 It is always great to receive the big guns with big stories and see that they are surviving time. For some while The Rods were better known as Ronnie James Dio's cousin's band – David "Rock" Feinstein, who played with him in Elf. Early The Rods shook the standards due to their corageous and extreme – to the time – Heavy Metal they performed. It was a little weird, but fans took it very well. The band was a little ahead of its time, and maybe this was one of the reasons they didn't take off. Who knows?
"Brotherhood of Metal" shows a mature and conscious band that their ship has sailed for some time, but it is no excuse and The Rods did their best to rock hard and teach a lesson to youngsters. This album has a pretty epic and standard Old School Metal grip. Fun fact is that The Rods were everything but standard. Even though, the true spirit of Metal is alive and kicking on the eleven tracks of "Brotherhood of Metal" with an interesting keyborading that highlights full of irony tracks as "The Devil Made Me Do It" whose inspired guitar solo stands out. In fact, "Brotherhood of Metal" has really well-built and natural guitar work. Take a look at "Evil in Me" and its moody cadence and pace and a great and inspired guitar solo as well.
The most critic fans will say that is "Brotherhood of Metal" a bricolage of standard Metal riffing and mooding. Nah, don't pay attention to them. This album is pure fun with some really nice tracks that make it worth it. Sometimes Metal fans act like poppers requiring bands to reinvent the wheel in each track. Pure bs, my child of the night. Make no mistake the wheel has already been invented. 
"Brotherhood of Metal" may not be The Rods's most inspired album, but it does make some noise. The epic and full of heart title track proves it so. As we always say "old dogs learn new tricks." We must respect them.
The Rods "Brotherhood of Metal" will be released on June 07th via Steamhammer / SPV.
Brotherhood of Metal
Everybody's Rockin'
Smoke on the Horizon
Louder Than Loud
Tyrant King
Party All Night
Tonight We Ride
1982
Hell on Earth
The Devil Made Me Do It
Evil in Me
Watch "Louder Than Loud" official video here: