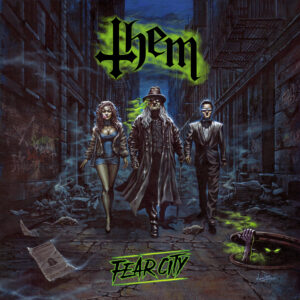 Bands do evolve from album to album. It deoesn't matter the reason why but they do evolve in different and sometimes antagonic directions. There's some band that we don't say the name that evolved in the opposite direction of its hardcore fans desired. Others, on the oither side of the coin, as Judas Priest,  Saxon, Slayer, and many others just to name a few – there's no order of importance here, okay? I'm just writing the names as I go remembering them – got exactly what their fans' wishes were, captured them to turn them into music and got so important in each step of the way that they get to be references.
Here we've got a band that clearly evolved from their previous album we reviewed here 2018's "Manor of the Se7en Gables." Even though it was impossible to review its following 2020's "Return to Hemmersmoor," the musical idea the band stood for back them suffered a slight turn. In our 2018 review we posited that it was clear the influence of Merciful Fate and King Diamond to the band's Speed Metal Hell. Here the band goes to the direction of an Old School Metal with such European traces that I'd dare compare them to Lordi. The idea here was to combine Old School Metal with Power Metal and some electronic effects. For the band's sake it's great that I insist on listening to more than the opening track because "Excito" and its tecno dance total influences almost made me thinn give in. I insisted because it's not the first time I see this kind of intro that actually turns into something much more related to Metal music. That's exactly what happened weird "Excito" turned into the exciting "Flight of the Concorde" from where we could notice the band's evolution. "Fear City" showcases a band that dares to get the best heavy sonancy to tell a story. By the way, "Fear City" has a cool story behind it  that goes what was set in the 19th century on their first three album releases, 2016's "Sweet Hollow," the aforementioned 2018's "Manor Of The Se7en Gables" and 2020's "Return to Hemmersmoor," is continued on "Fear City," albeit with a 120-year time shift and the descendants of the original characters. KK Fossor, one of the band's masterminds is trying to find the descendant of the Witchhunter, who works as a televangelist under the name of Peter Thompson in 1981 New York. New York City was often referred to as "Fear City" in the early 1980s. At that time, illegal prostitution, protection rackets and drug trafficking thrived in the city which was notorious for its high crime and violence rates. So, my dear child of the night might notice that "Fear City" isn't only a concept but part of a bigger fiction sequence of events.
This is the kind of album that will make my dear child of the night intrigued. To some extent, Them prepared an album to tell the sequence of a story and each track was planned to sound exactly as the story goes. For that reason the band tried some new features sometimes away from thei comfort zone – hum, I don't like this term but, whatever, it fits.
Them "Fear City" was released on October 28th via Steamhemmer / SPV Records.
Track listing:
Excito
Flight of the Concorde
Welcome to Fear City
Retro 54
An Ear for the Action
Graffiti Park
191st Street
Home Stretch
The Crossing of Hellgate Bridge
Death on the Downtown Metro
Stay Tuned…
A Most Violent Year
The Deconsecrated House of Sin
In the 11th Hour
Watch "Welcome to Fear City" official video here: