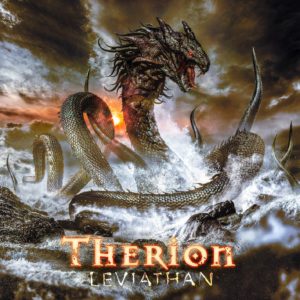 The real deal is always the real deal. Therion with "Leviathan" prove that pioneers know it better. As a matter of fact, the band was one of the first bands to make this unique melt of Gothic, Doom, Death and Sympho Metal. Their sonancy is unparalleled due to the dark and mysterious approach they give to their music. "Leviathan" made me remember the first time I heard them back then in 1998 when I got impressed by their combination. Therion were one of the few bands that made me feel that way of impressive. Unfortunetely for me and for them, from then on I got some unfortunate samples of their music that made me leave them behind. "Leviathan" sent me back to where Therion belong in my heart.
The very beginning of "Leviathan" is a little frustrating not to say disappointing. The very first chants of "The Leaf on the Oak of Far" were a bit of those unfortunate songs that I heard before. I really thought of giving it up, but as I always do, I give the bands lots of chances. Luckly, soon the song took the righteous path to make me remind everything that I fond back then in 1998. There are some dark and gloomy atmospheres in Therion that are hard to explain and that give them all the charm. The melt of lyrical singing of Lori Lewis and Hellscorewith choir plus the power guitars and pungent vocals are the featutes that attracted me to Therion's music. The barroque effect they get in their songs nails me to them. The operatic female voices shine in contrast with all the Metal musical arrangement. Therion also know when to stop the operatic and add more agression to the songs to make them more Metal. This is the recipe that Therion deliver; pompous and grand operatic of classical music with the hard and heavy features of Metal. Take "Nocturnal Light," for instance a track that delivers all this. It's one of the best of the album and like a petal of rose. Following track "Great Marquis of Hell" show the band that are able to spice their music with great guitar riffing and fast drumming. Simply remarkable. 
"Leviathan" made me remind my second wave of Metal, the time when I met all those new bands that were bringing many news to the Metal world. It was a new era of Metal to me. I must say that I've always been attract to this epic approach, but Therion bring it to another different level. I can't tell how many times I heard to this album before writing this review. Nor how many I will listen to it over and over.
Therion "Leviathan" will be released on January 21st via Nuclear Blast Records.
Track Listing:
The Leaf on the Oak of Far
Tuonela
Leviathan
Die Wellen der Zeit
Ai Dahaka
Eye of Algol
Nocturnal Light
Great Marquis of Hell
Psalm of Retribution
El Primer Sol
Ten Courts of Diyu
Watch "Leviathan" official video here: