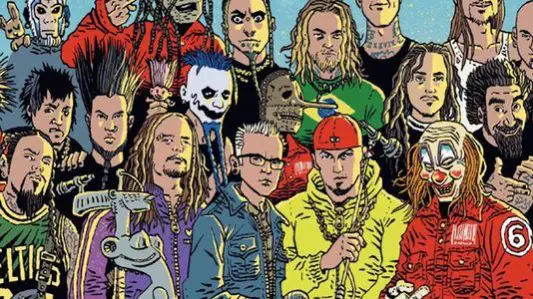 Revolver Magazine have recently rounded up their list of Top 20 finest records of the nu-metal genre.
They explained in the introduction: "With the exception of '80s glam, no hard-rock subgenre has been more critically reviled -or found more chart success – than the nu-metal that dominated the airwaves during our most recent millennial shift. Fusing Nirvana's trademark dynamics with influences from rap and electronic rock, nu-metal was brash, funky and free of the hand-wringing guilt that kept flannel's most visible flag-flyers from embracing their stardom.
"Though it was eventually toppled by skinny jeans, screamo and a resurgence of more traditional-style metal, much of music that came out of the movement – and these 20 records, in particular – stands the test of time. It makes sense, then, that the sound is having something of a resurgence of its own today, at the hands of rising groups like Vein and Cane Hill for whom it served as the gateway to sonic excess."
List can be seen below. Check out the original article for full commentary.
Top 20 essential nu-metal albums according to Revolver:
20. Mushroomhead – 'XIII'
19. Chimaira – 'The Impossibility of Reason'
18. P.O.D. – 'Satellite'
17. System of a Down – 'Toxicity'
16. Linkin Park – 'Hybrid Theory'
15. Glassjaw – 'Everything You Ever Wanted to Know About Silence'
14. Mudvayne – 'L.D. 50'
13. Kittie – 'Spit'
12. Static-X – 'Wisconsin Death Trip'
11. Slipknot – 'Slipknot'
10. Spineshank – 'Strictly Diesel'
09. Soulfly – 'Soulfly'
08. Fear Factory – 'Obsolete'
07. Orgy – 'Candyass'
06. Incubus – 'S.C.I.E.N.C.E.'
05. Limp Bizkit – 'Three Dollar Bill, Y'all$'
04. Sevendust – 'Sevendust'
03. Deftones – 'Around the Fur'
02. Sepultura – 'Roots'
01. Korn – 'Korn'