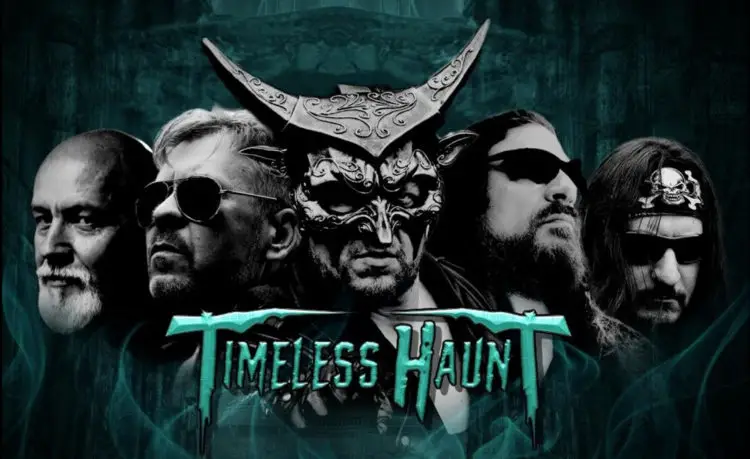 Timeless Haunt were originally formed by the Unknown Vocalist, Tommy Eye, and George Dimitri in August 2018 with the intent on writing melodic heavy metal music with a haunting, creepy vibe. John Jesuele had previously played with the Unknown Vocalist in Forgotten Legacy and was the first choice to play drums.
The band quickly began writing songs realizing early on that the addition of keyboards would help differentiate the band in the metal world as well as accentuate the haunting vibe and message the band was trying to create. Don Fortune was brought in soon after to round out the current line-up.
The debut album "Haunted Symphony" was recorded in March 2019 and distributed internationally by Stormspell Records. "Haunted Symphony" received many critically positive reviews including being awarded Streetclip's 2019 Metal EP of the Year.
Timeless Haunt make melodically pleasing original songs in their own unique brand of metal, owing to the diverse metal influences of the five members. In no time the band has already achieved international renown and critical acclaim.
Timeless Haunt's follow-up CD Dark for Life was released through Stormspell Records on March 5th, 2021 and has already generated positive reviews.

Band Line-up:
Unknown Vocalist – Lead & Harmony Vocals, Demonic Chants, Sinister Laughs
Tommy "The Electric" Eye – Rhythm Acoustic, Electric, and Lead Guitars, Diabolic Pinch – Harmonics
George Dimitri – Extended Range Fretted & Fretless Basses, Piano & Keyboards, Harmony & Back-Up Vocals, Bellow Growls
Don Fortune – Piano, Keyboards, Organs, Strings, Assorted Evil Sounds
John Jesuele Thunderous Drums & Haunting Percussion
Read our review here.