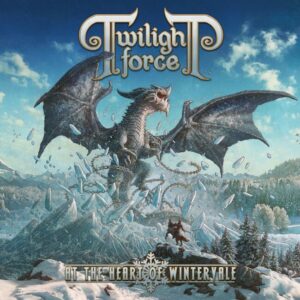 I know I shouldn't but it I can't help it, it's much stronger than I've ever dreamed of. When I receive a band as Twilight Force with their latest album "At the Heart of Wintervale" it's impossible to me not to do a checklist. I don't mean bad but it's so much stronger… No, I can hold myself. I won't, I wouldn't, I shouldn't… Yeah, I got it.
Right, so let's be the most impartial writer I can be and tell about what I hear today with "At the Heart of Wintervale" and its Power Metal milestones. Well, in short everything is here. I don't need to enlist all the Power Metal traits the album delivers. No doubt, it's a spoonful for Power Metallers who like it with touches of Symphonic and Medieval music. On Twilight Force behalf, there are tracks as "Skyknights of Aldaria" which could be the soundtrack of a movei or a show as some narratives take the stand giving the fan the impression it's part of some of them. The band's forte is really the symphonic traits as all of the tracks showcase them as a strong feature. Medieval flutes and all are guests at tracks as "A Familiar Memory" giving it the so desired Rhapsody touch. Surprisingly, "Sunlight Knight" delivers some latin music embedded in its background to, let's say, spice it a little or to surprise the fans. That really got me coming.
Ok, "At the Heart of Wintervale" won't change the world not a tiny bit. Nor it will shake Power Metal standards with the most original album ever. No, it won't. However, it's impossible not to mention the competence of all musicians here. I totally understand a band that keeps itself on higher ground. With the crazy today's music market I'm not really sure if I wouldn't do the same if I had a band. Comfy music has always its fans.
I would love to say nor for fans only, but I would be lying to you my dear child of the night. "At the Heart of Wintervale" is for Power metal diehard fans.
Twilight Force "At the Heart of Wintervale" was released on January th via Nuclear Blast Records.
Track Listing:
Twilight Force
At the Heart of Wintervale
Dragonborn
Highlands of the Elder Dragon
Skyknights of Aldaria
A Familiar Memory
Sunlight Knight
The Last Crystal Bearer
The Sapphire Dragon of Arcane Migh…
Skyknights of Aldaria (orchestral version)
The Last Crystal Bearer (orchestral version)
Watch "At the Heart of Wintervale" official music video here: