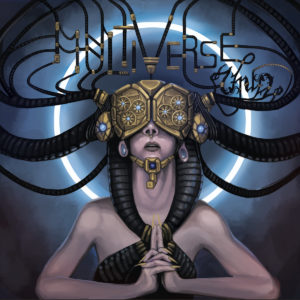 Uriel "Multiverse" has an interesting approach as its intro "Long Way Home" and last track "A Heart Underneath" are both acoustic. The first works as the grand opening and the last as the gran finale – Wow, those the most obvious words I've ever written here. Well, that's what we have for today. On second thought, after listening to all the album, the impression it gets is exactly that as I suppose "Multiverse" to be a concept album or at least an album that has a concept.
"Multiverse" ends up to be also interesting due to the dashes of country music and jazz the band also adds in some of their music in order to make it more theatrical. I mean to give it some more emotional approach. The way I see it Uriel are a Symphonic Metal band that like to add some operatic mooding in their music though their music also presents some folk aspects as the violins. Given the fact that Uriel present the idea of multiverse, I imagine the band is some kind of 15th century tabern of a parallel reality perfomorming their unique combination of folk and Metal music. I also imagine all kinds of demons and gnomes and other ethereal beings following their music while they play. Add to that all kind of colors and lights as lightinings and other nature effects. Just imagining. A track as "Mysterious Dancer" just make my ideia more serious.
The music in "Multiverse" follows a different path. The combination of Folk with Symphonic and Extreme Metal is unique. The songs are at the same time heavy as hell but with some spice given by the ethereal voice of Gaia Guarda and the gutural being. It's a mix of a world full of magic and its dark side in a multiverse or parallel reality. Uriel are a band that could combine influences that in general can't be combined to produce an album that in some ways is unique.
In some weird ways it is possible to think of "Multiverse" as a concept album. The way the tracks go on and the way they are musically inteconnected makes the fan wonders this possibilty. The use of both voices in all songs show this intent of making the album as a long story mixing science fiction and fantasy two things that today's Metal bands know pretty well. Take a look at the cover art and tell me if I'm not right about it.
Uriel "Multiverse" will be released on October 1st.
Track Listing:
Long Way Home
Multiverse
Mysterious Dancer
A Thousand Burdens
Follow You
Blood Forest
Insight
War Hammer
Lies
A Heart Underneath
Watch "Insight" lyric video here: