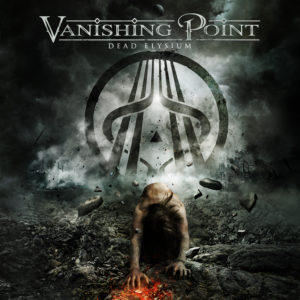 We get so uded to listening to Extreme Metal that we almost forget how it's great to listen to a good singer with a fantastic voice. Metal music has so many amazing voices that is almost impossible to quote all of them with the risk of making a mistake and being unfair. Silvio Massaro's voice is just incredible and of a great taste. The man knows how to do it.
So, got in the mood for hearing such a great master voice? "Dead Elysium" is really worth it. The contrast between the thick and big guitars with the finesse of the voice is dazzling. Opening and title track guitars "Dead Elysium" have an Extreme Metal feeling and spirit hence the unimaginable and striking contrast between them. Guitar licks and interventions are also highly inspired. Vanishing Point delt pretty well in combining power and emotion altogether. A good song to use as an example that what makes an Extreme Metal song is the raspy vocal. Nothing less. Well, I do appreciate both.
In fact, what Vanishing Point do here is the good Metal we are used to. No more, no less. And with a great singer. Of course, some tracks as "Count Your Days" sound a bit less heavy, or some may say, commercial. But it's a matter of opinion. Try to imagine the song with a fat raspy voice. I guess it would fit in many Extreme Metal bands these days since many use keyboards. But that's not the real point of this review.
Biases out "Dead Elysium" is an album that may please all metallers in this sad and lonely and pathetic planet. I do appreciate the melancholy and minimalism of tracks as "To the Wolves" with its a capella moments. The catchy guitar riff is a highlight as well. But the voice… Ah, the voice! Really difficult not to like it. The omnious keyboarding also sparks the attention. Here's an album where guitars and vocals talk. A lot, if you ask me.
Vanishing Point "Dead Elysium" was released on August 28th via AFM Records.
Track Listing:
Dead Elysium
Count Your Days
To the Wolves
Salvus
The Fall
Free
Recreate the Impossible
Shadow World
The Healing
The Ocean
Watch "Dead Elysium" official lyric video here:
981