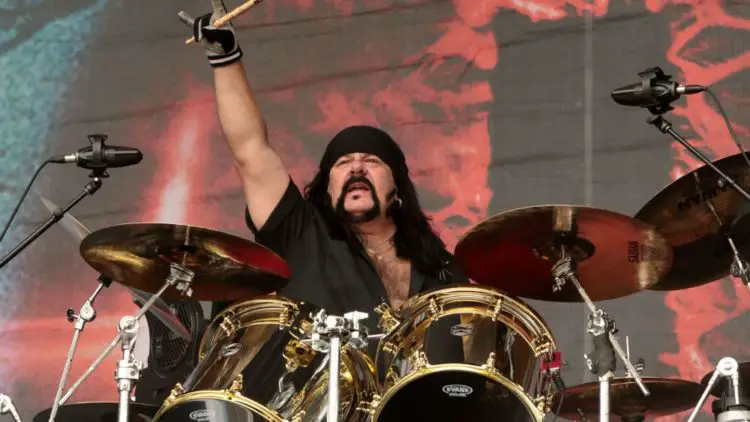 According to TMZ, Vinnie Paul Abbott left most of his estate to his best friend and  longtime girlfriend.
TMZ obtained the document which outlines exactly how his estate should be divided following his sudden death last month, and Vinnie's friend Charles Jones will get 38% while the drummer's girlfriend, Chelsey Yeager, will walk away with 37%.
The rest is split between Vinnie's tour manager (10%), drum tech (5%), producer (5%) and friend (5%). In addition, Vinnie is giving his interest in his brother and PANTERA co-founder "Dimebag" Darrell Abbott's estate to Dimebag's longtime girlfriend, Rita Haney.
The PANTERA and HELLYEAH drummer was buried on Saturday (June 30) next to his brother, PANTERA guitarist "Dimebag" Darrell Abbott, and their mother, Carolyn, at Moore Memorial Gardens Cemetery in Arlington, Texas. He was laid to rest in a custom "Kiss Kasket" provided by KISS members Gene Simmons and Paul Stanley. The casket was offered as a gift at Vinnie's family's request. Vinnie was also buried in some of his trademark clothes, including his hat, shoes and flannel.
Vinnie Paul and his brother "Dimebag" Darrell Abbott co-founded PANTERA. When PANTERA broke up in 2003, they formed DAMAGEPLAN. On December 8, 2004, while performing with DAMAGEPLAN at the Alrosa Villa in Columbus, Ohio, Dimebag was shot and killed onstage by Nathan Gale. He was 38 years old.