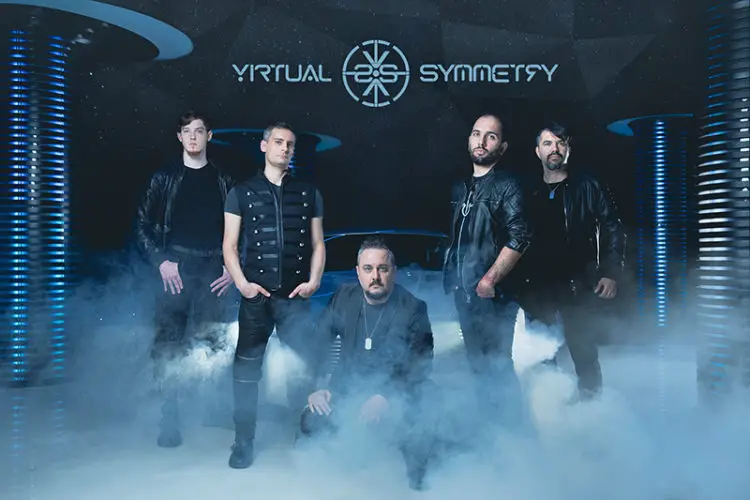 With exquisite influences from the areas of ambient, fusion, pop and contemporary music, these men of taste enrich their multi-faceted PROGRESSIVE METAL sound since their start in 2009.
Meanwhile, the Italian-born, Milanese team of sophisticated spirits has set up its creative headquarters in Switzerland. Singer Marco Pastorino and his bandmates focus mainly on romantic melodies, surreal atmospheres and chasing rhythms.
The futuristically accentuated mixture of the quintet gets rounded off by suggestive backgrounds in the emphasized harmonious soundframe. With a correspondingly high level of imagination, an imaginative journey through time and space is possible.
Guitarist and band founder Valerio Æsir Villa is not only a multi-instrumentalist, he also works out the ideas for the songwriting of VIRTUAL SYMMETRY. This way of proceeding was already proven for the 2016 debut album "Message From Eternity."
VIRTUAL SYMMETRY tied up as next with the rich EP "X-Gate Suite." This 2017 EP is also dominated by all the characteristic contrasting elements that make up the epic face of the completely thought-out songs, which partly take longer time.
With her wonderfully sensitive, seamlessly integrated vocals, Diane Lee, who sings mainly in the Swiss act Lost Journey, ensures highly moody, dreamy moments on it. With skillfully sharpened, but far-reaching, cinematic mood-sheets, the passionate Italian visionaries paint their tracks also on the new release "XLive Premiere."
The songs were professionally recorded on March 31, 2018 at an enormously atmospheric concert of the formation in the southern Swiss Temus Club.
The represented tracks are characterized by a well weighted balance between melody and technique, with particular attention to conclusiveness. The visitors were able to experience an exciting journey between varied dynamics and touching emotions.
VIRTUAL SYMMETRY cite on "XLive Premiere" world-famous giants such as Dream Theater, Fates Warning, and Evanescence with the same independent devotion and love, as the band also pay homage to the respected work of exceptional musicians like Joe Satriani and Steve Vai.
The fact that despite the extensive musical range and the complex arrangements everything ultimately sounds like a single cast is the merit of the huge joy of the five-piece in liquid structures, finest details and accessible homogeneity.
Discography:
2014: Program Error (We Are The Virus) (single)
2016: Message From Eternity (full-length)
2017: X-Gate Suite (EP)
2018: XLive Premiere (full-length + blu-ray)
Read our review here.