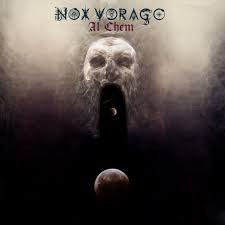 Dark, dense, heavy, complex, full of tones, mystical, melodic and hard. That's Vox Norago's "Al Chem". And black metal keeps on surprising me. Bands are really making a great effort to amuse, I must say. Some years ago this kind of blend Vox Norago do would be impossible.
"Al Chem" is a seven track album, full of intricate and complex passages and atmospheres. And Vox Norago are pretty good at creating atmospheres. It's opened by "Elenu Tiamatu" with almost seven minutes of a mix of keyboards and symphonic arrangements which I confess to have made me a little confused by the first keyboard notes. They sounded a little out, not belonging to the song. But the feeling went away as soon as the song got thick and the guitar started playing. But the alternation of atmospheres pleases. And then comes "The Hissing Sounding of Horoboros", the fourth track, with a classical keyboard sound which gave the song an unexpected feeling of early Ozzy and Deep Purple, but just for a while, because Vox Norago are a band of pace changes, and my opinion is that this is their best ability because in a sudden the song that had a classical keyboard touch goes to a classical black metal pace, and then comes back to the keyboards. Astonishing! "Daughters Of The Sun" is another track that uses and abuses the changes of pace. From the speed of light to a slower and thick pace, all in a sudden as usual.
Vox Norago's "Al Chem" is an album that is capable of pleasing all kinds of black metal fans. Old scool fans will love the speed of songs like "The Lotus Scimitar", and new ones will stuck to the change of paces and the dark and dense atmospheres the band creates.
Track Listing:
Elenu Tiamatu
Nuremberg 1561
Devourer of Dreams
The Hissing Sound of Ouroboros
Daughters of the Sun
The Lotus Scimitar
At the Feet of Ereshkigal
You can watch "Elenu Tiamatu" music video below