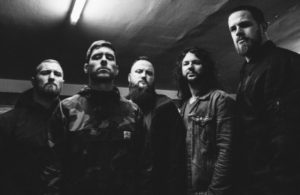 This spring, Whitechapel will co-headline the 2019 edition of the "Chaos and Carnage" USA tour with Dying Fetus, in support of their upcoming album, "The Valley" (due out March 29th). Featuring Revocation, Fallujah, Spite, Uncured, and Buried Above Ground on the bill, this is one show not to be missed!
Whitechapel comments:
"We are very excited to be a part of the "Chaos and Carnage" tour this year. Dying Fetus has been a band we have grown up listening to and has influenced our sound over the years. We are grateful for the opportunity to shred North America co-headlining with them."
See below for all dates! Click here for tickets.
"Chaos and Carnage" tour dates
w/ Whitechapel, Dying Fetus, Revocation, Fallujah, Spite, Uncured, Buried Above Ground
Apr. 18 – Sayreville, NJ – Starland Ballroom
Apr. 19 – Worcester, MA – Palladium
Apr. 20 – Reading, PA – Reverb
Apr. 23 – Pittsburgh, PA – Rex Theater
Apr. 24 – Cleveland, OH – Agora Theatre
Apr. 25 – Chicago, IL – Conrod Music Hall
Apr. 26 – Pontiac, MI – Crofoot
Apr. 27 – Milwaukee, WI – The Rave
Apr. 28 – Minneapolis, MN – Cabooze
Apr. 30 – Denver, CO – The Oriental Theater
May 2 – Berkley, CA – UC Theatre
May 3 – Anaheim, CA – House of Blues
May 4 – Phoenix, AZ – The Pressroom
May 5 – Albuquerque, NM – Sunshine Theater
May 7 – Springfield, MO – The Complex
May 8 – Oklahoma City, OK – Diamond Ballroom
May 9 – San Antonio, TX – Rock Box
May 10 – Dallas, TX – Gas Monkey Live
May 11 – Houston, TX – Warehouse Live
May 12 – New Orleans, LA – House of Blues
May 13 – Atlanta, GA – Buckhead Theatre
May 15 – Fort Lauderdale, FL – Revolution
May 16 – St. Petersburg, FL – Jannus Live
May 17 – Winston Salem, NC – Ramkat
Mixed by David Castillo, mastered by Ted Jensen, and produced once again by Mark Lewis (Cannibal Corpse, The Black Dahlia Murder), The Valley is a reference to the part of Hardin Valley (west of Knoxville, Tennessee) where vocalist Phil Bozeman grew up. Set against this backdrop, he approaches his subject matter unflinchingly, building upon everything that came before, making it clear that he has survived that which he was forced to endure and is not afraid to confront it.
"Phil has been upfront in his lyrics in the past about hardships he endured in his life as a child, and I believe with this record we tried to paint a better picture of that," says guitarist Alex Wade, who alongside his bandmates, stands 100% behind everything their vocalist has to say. "I feel our music is Phil's release from his past, being able to get it out and speak about it, and hopefully anyone who hears it that may have gone through similar experiences can find some release in it as well."
Click here to preview and pre-order "The Valley."