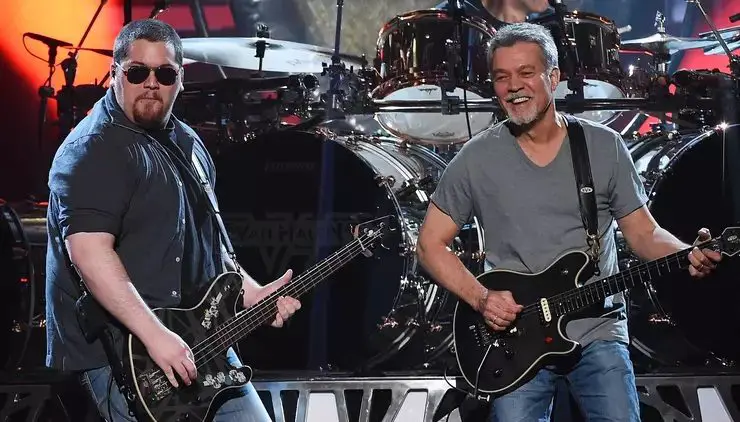 During a recent conversation with Rolling Stone, Wolfgang Van Halen discussed his recent revelation that his father, legendary VAN HALEN guitarist Eddie Van Halen, had contemplated a "kitchen-sink tour" that would have included bassist Michael Anthony, as well as vocal turns from both David Lee Roth and Sammy Hagar.
When asked if he thinks he could have gotten Roth to take part in such a tour, Wolfgang responded: "I would have loved to see it happen. Unfortunately, we'll never know the answer to that. I think at a certain point you would have just had to get everybody in a room and just be like, 'Come on, how awesome would this be?'"
Wolfgang also said that he was "pretty much" ready to retire from VAN HALEN and leave the door open for Anthony to return.
"Other than maybe [me] jumping on stage for a song or two, because Dad would be like, 'You got to be on stage at least a couple times,'" Wolfgang said. "He kept trying to pull me back in. Not that I didn't want to be there. Playing with my father was the best thing I ever did. It was my favorite thing to do."
When asked if he ever had a personal conversation with Anthony about him returning to band, Wolfgang said: "Never had too much of an opportunity. That's kind of what that whole tour was supposed to be. And then it never panned out. I was really looking forward to speaking with him, and that hasn't happened yet. I'm looking forward to the opportunity that I have in the future to speak with him.
Eddie died on October 6 at St. John's Hospital in Santa Monica, California, after long battle with cancer. "Alex was by his side, as were Eddie's wife, Janie, and son, Wolfgang.