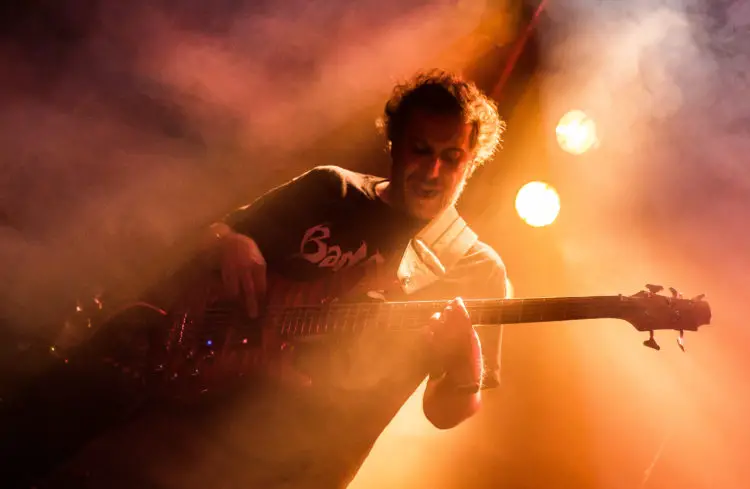 Groundbreaking spheres
Italian visionary ALBERTO RIGONI, a dedicated composer and addicted to bass guitar, never stops being creative.
Also being bass player in the bands Bad As (Metal) and The Italians ('Britalian' Pop Rock), the technically accomplished and equally soulful string virtuoso gains rapidly audience in the international music scene for inventive and atmospheric genre-crossing compositions.
ALBERTO RIGONI paints alluring INSTRUMENTAL HEAVY PROGRESSIVE-soundscapes comprehensible to wide varieties of listeners.
ALBERTO RIGONI was also a member of the progressive band Twinspirits, which released three albums.
Famous musicians like Gavin Harrison and Kevin Moore joined his solo project. ALBERTO RIGONI is also co-producer of the Vivaldi Metal project and bassist of Kim Bingham.
The upcoming, eight solo album with the well framing title "Prog Injection" shows the refined art of the Italian in absolute perfection.
Jeff Hughell, bassist in Six Feet Under, is featured in the fourth song "Death Stick" as a special guest.
Established drummer Thomas Lang shows his extensive skills on the kit. He is also well known for his collaboration with music greats such as Peter Gabriel, Paul Gilbert, Glenn Hughes etc.
Alessandro Bertoni provides many atmospheric moments on the keys. Listeners already know his enormously multi-faceted art by participating at musicians like Ric Fierabracci, Craig Blundell and Brett Garsed.
For "Prog Injection" the playful maestro has successfully completed a special Fundraising Campaign – 20% of the target sum has already been donated to the Italian Lega del Filo d'Oro Association for a charitable purpose.
Read our review here.