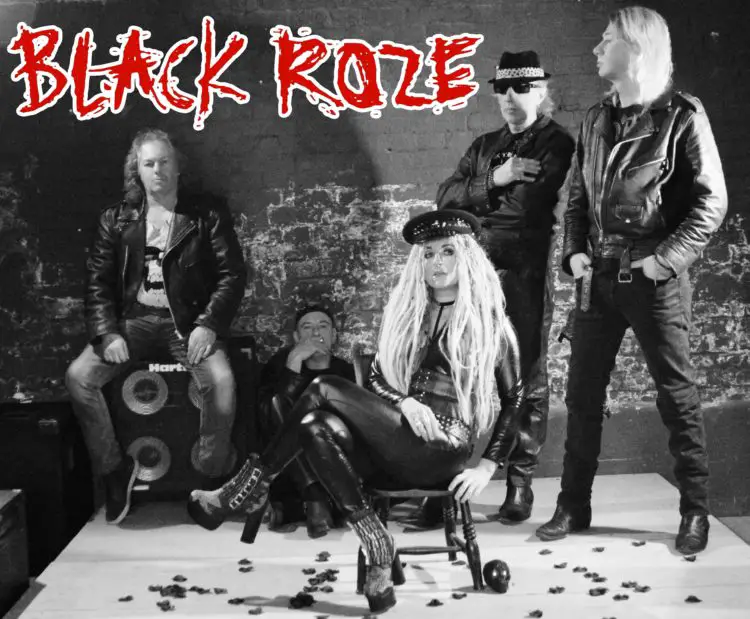 Black Roze: UK beast of Rock hailing from Kent! They encapsulate so many genres of Rock and metal they are an individual entity in themselves. Theatrically Female Fronted: Sleaze; Goth and Classic Rock/Metal! Dual guitars with classic Riffs and catchy melody, Black Roze are emotionally charged feisty Rock'N'Roll!
Black Roze were formed in 2015 as a cover band, they cut their teeth at  local venues, quickly being invited to headline various biker festivals and outdoor shows, creating a massive following. They started writing their original material just 2 years ago; never really expecting the band to emerge at the 100 miles an hr rate in which it has done. They released a 3 track Ep "Pleasure & Pain" early 2018; which included the video single "In the darkness" that went on to be a YouTube hit with over 36,000 views.
The unexpected success of this prompted a huge surge of creativity between Viixen, Baz, Jaime, Steve and Vic. The songs were flowing out of them with natural ease. A debut 10 track album "Spiritual Hell" was now well on its way to being born. In between playing prestigious venues such as the Hard Rock Cafe, London, The O2 Academy Sheffield & The O2 Academy Islington, the Rock n Roll machine was now roaring. Being on the same bill as bands as Vain, La Guns, Faster Pussycat, Reckless Love and Crashdiet & supporting Warrior Soul was a dream come true and an inspiration to write an album of the highest calibre.
Fast forward to Oct 5th 2019; the debut album is released. Within a week the band sold out the first batch of printed CDS, achieving copious downloads and getting rave revues.  A support slot with Diamond head in Nov 2019 and a UK tour beckoning, this Rock N Roll machine is definitely in the red line!

Band Line-Up:
Viixen – Vocals
Steve Rankin – Bass & backing vocals
Baz Roze – Guitar
Jaime Cortinas – Guitar
Vic finch – Drums
Read our review here.