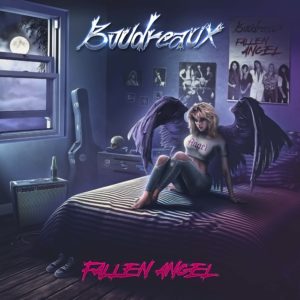 I really don't if my children of the night keep track of what I write here. I don't even know if they compare what I write about different styles of Metal music. For the record and in my defense, I NEVER wrote pro or con any style of Metal music… – as a matter of fact I do it all the time. And  I did write zillion of times that I do appreciate Hard Rock, especially the 1980s Hard Rock. Unlike many of my peers I have no shame of saying that I'm a huge fan of bands as Kiss, Poison, Mötley Crüe, Ratt, W.A.S.P. and many others. Maybe some noticed that when I write about them bands I generally use many more adjectives or else…
I'm perfectly aware that this subject will raise lots of controversy, but I feel obliged to bring it up. In my humble opinion, some Hard Rock bands and songs are more aggressive and heavier than some Extreme Metal bands. Ok, don't kill me now. Just wait for my considerations. The yell in the intro of "Who Peed In The Pool" is very aggressive. I confess that I'm absolutely fascinated by this kind of screaming due to the aggressive mood they bring to the song. The fan may add to the some melodic and harmonic constructions as the use of simple chords alone as in "Baby Don't Leave" or the construction found in Poisonesque title track "Fallen Angel." But, I know it's only a matter of taste. Good taste or bad taste as the fan wishes.
Boudreaux mix lots of references here in "Fallen Angel." Clearly there are touches of an infinitude of bands as Bon Jovi, Kiss, and most likely Poison among others. By doing this it's possible to a band can build a personality as Boudreaux are building here. Being a survival of the 1980s adds a lot to the band's personality. It's possible to feel the real deal in tracks as "Road to Nowhere" and "Take the Money and Run," this last one specially by the well-built guitar solo that goes in a crescendo using some clean features. I was amazed by the way guitarists Darwin DeVitis and Ken Snyder vary their guitar solos. There are times for shredding and there are times for more cadence. I guess many will have the urge of killing again but "One of a Kind" has a certain taste of Exciter's "Pounding Metal." Don't ask me why, but the first time I heard I connected them both. Maybe it's the guitar riffing.
I know I said it before and I said it many times, but it's important to say that Hard Rock is definitely back. Boudreaux with "Fallen Angel" prove it.
Ah, almost forgot. The CD cover is amazing representing perfectly the album thematic.
Boudreaux "Fallen Angel" will be released on February 12th via Metallic Blue Records.
Track Listing:
Road to Nowhere
Fallen Angel
Baby Don't Leave
Without Love
Take the Money and Run
Why Did Our Love Go Away
Yesterday's Gone
Don't Know About You (D.K.A.Y.)
Head First (Going Down For The First Time)
One of a Kind
Forget Love
Who Peed in the Pool
Big Bad Bully
Baby Don't Leave (Reprise)  
Watch "Fallen Angel" official video here: