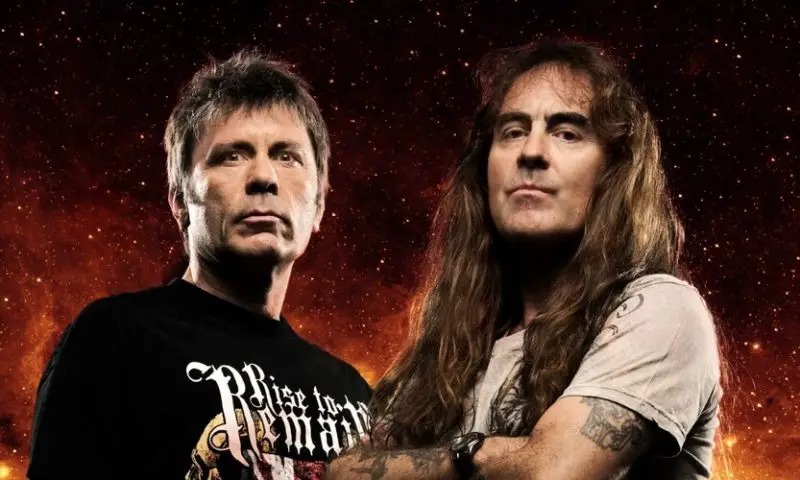 IRON MAIDEN frontman Bruce Dickinson recalled how he almost got into a fist-fight with band's bassist and main songwriter Steve Harris.
During a recent show at Las Vegas' House Of Blues on his solo spoken-word tour, Dickinson was asked by an audience member if he "had ever had a fistfight with any band members?"
"Well, almost," Bruce responded. "When I first joined the band, I was a very different animal to the previous singer [Paul Di'anno]. When I joined, I said, 'I know I'm the new boy, but here's the deal — when I sing, I kind of stand in the middle of the stage at the front, I do the singing bit, and then I go somewhere else… You can go anywhere you like, but when I sing, I want to sing in the middle.'
He continued: "So I've got my monitors down there and I'm singing away, and suddenly this maniac comes up and goes [mimes Steve Harris's foot-on-monitor pose]. F*ck off! And then the roadies comes and they move my monitors off to the side. I'm, like, 'Cheeky f*ckers'. So I f*cking move them back again. And this carried on for a while.
"In the end, what I did was I get and extra-long microphone stand… I had a microphone stand that was like a tank trap for bass players. And he'd jostle me — I've still got lumps out of my front teeth, and chips and cracks, of all the times he bashed my f*cking mic into my teeth. So we nearly came to blows. But we came to an accommodation in the end. I sing in the middle of the stage, we just make the stage twice as big."
During a recent interview with Consequence, Dickinson issued an update on his long-awaited upcoming solo album.
"I've been working on it, on and off, since [2005's] Tyranny Of Souls," he said. "But between lockdowns and albums and MAIDEN tours and everything else, I'm looking for a clear space to actually nail and say, 'Okay, this is what it's gonna be,' and get [longtime collaborator] Roy ['Z' Ramirez] to put some backing tracks down. And then we can do it. So we're at the point now where we've already got — I don't know — anywhere between 50 and 70 percent of the material for the album, depend[ing] on what we pick, from things we've already got. And I think we'd like to tweak it a little bit.
"So I've got some time," he continued. "When I finish this [U.S. spoken-word tour] in March, I've got three weeks in L.A. And so I'm gonna be tweaking a few things with Roy. And we'll see where we get to. And if we get to the point where we can start putting backing tracks down, then I'll be off touring with MAIDEN and he can be chipping away doing the backing tracks. And the technology exists now, of course, which didn't exist back in the day, to just get on a Zoom call with him and take a listen.
"We were already going that way on Tyranny Of Souls. He actually sent me a CD of the backing tracks — just rough; no guitar solos; just rough — and I put a set of headphones on. I was in Japan on tour at the time, and I just walked the streets of Tokyo at, like, nine in the morning with a notepad, mentally writing words and melodies, and then just flew back to L.A. and did the vocals. And that worked out great; Tyranny Of Souls is a great album."