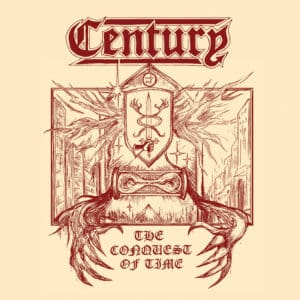 The time I got the EPK about Century and the album "The Conquest of Time" I couldn't help it but to remember 1985's Century "Lover Why," it was so much stronger than I am. There are songs that stick to one's mind and this one did. FM radios used to play it all the time. But, for our sake and the band's this Century have nothing to do with that Century. No, my dear child of the night, don't even take a peek. It's not worth it. But this one here I guarantee is nice enough to make you give some of your time to listen to it very carefully. "The Conquest of Time" is a great NWOBHM inspired and driven album. Even the cover art addresses to that epoch flawlessly – it looks as if it was made for a cassete tape. The band made a huge effort to compile all the traits of an album of that epoch. And they did it with flying colors. I'll admit that I had to read the press release to make sure that this album wasn't a reissue of some sort. The music in here is too loyal to the 1980's sonancy and it's almost needless to say my dear fan could take it for a contemporary like Tokyo Blade or even Tysondog even though I think Tysondog are somewhat in a different vibe. To some extent, I guess the band that sounds closer is Omen though Century aren't as melodic as Omen. Notwithstanding, I have never heard the term Californian Metal as to refer to bands as Omen or Leatherwolf or Cirith Ungol, bands that played a hard Heavy Metal and weren't by any means to the Bay Area Thrash Metal or Los Angeles Hair Metal. This band fits perfectly to it.
"The Conquest of Time" welcomes the fan with the reliable and very well-used "The Fighting Eagle" with its I-have-heard-this-guitar-riffing-before-somewhere whose sound everyone knows and everybody thinks it's perfect. Why change it if it works? The song uses that formula of guitar riff only to then add the bass and the drums which always causes some buzz. I always like this kind of drumming the band uses here. It's so thrilling. A highlight to the guitar interventions in this song and in the album. They're sharp and striking. It seems guitar duo Staffan Tengnér and Leo Ekström learned all the lessons from 1980's bands. By the way, the duo isn't only on the guitars but also on all the instruments. "The Fighting Eagle" is followed by the Iron Maiden riffage inspired "Black Revenant" whose break was the one that told me where their influences came from. All those bands I aformentioned had a strong Iron Maiden influence everyone could tell, but it was that influence that made it possible to them build up their personality. Century, as they aren't a primary source, on the very opposite, may have gotten those influences from their contemporaries. What I feel here, though, is that the duo passed lots of their listening to some obscure and non-obscure Old School Metal bands and from them built up their personality. "Victim in Chains," for instance, has some early Saxon riffage.
The good old times of Metal music are secure with "The Conquest of Time" I have no doubt. It may not be the most original album of all, but their honesty and energy is to be praised. Isn't it what really matters?
Century "The Conquest of Time" will be released on April 21st via No Remorse Records.
Track Listing:
The Fighting Eagle
Black Revenant
Sinister Star
Victim in Chains
The Conquest of Time
Master of Hell
Distant Mirror
Breakthrough
Servants of The Iron Mask
Watch "Master of Hell" official track stream:
1719