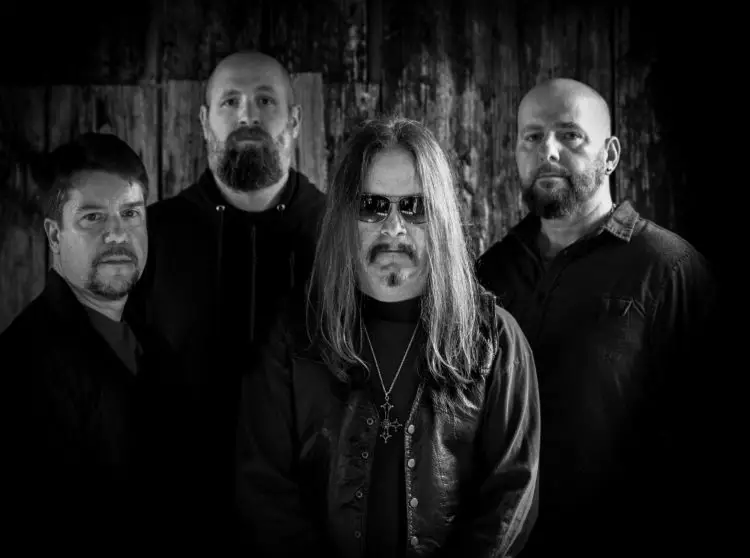 Cincinnati's resident doom metal overlords Cult of Sorrow are preparing to unleash a dire torrent of traditional doom upon the underground music scene this fall: "Invocation of  the Lucifer," a second full-length that showcases the band's songwriting growth and displays a ferocity not yet unleashed on the earlier releases.
The band got together in 2013 when Jerry Lovett (vocals, guitar) recruited three local musicians to bring his vision of a 4-song EP celebrating the primal form of Heavy Metal to life. Rounded out by Pete Contreras (guitar), Joe Owen (bass) and Nate Bid (drums), Cult of Sorrow recorded and released the self-titled EP in the Fall of 2013 and immediately started writing and rehearsing songs for a follow-up full length album. Released to strong reviews in January 2017, Ascension showcased a heavier, doom-laden side of the band while paying homage to themes of Luciferian Gnosticism.
Upon the independent release of "Ascension," Cult of Sorrow set out to tackle the stage with a barrage of shows both locally and regionally. Sharing the stage with such acts as Manilla Road, Castle, The Hazytones and Void King, as well as a slot on the inaugural Ohio Doomed and Stoned Fest, Cult of Sorrow honed a razor-sharp live act that matches the intensity of the band's infernal releases.
Cult of Sorrow entered Candyland Studio in Dayton, KY in November 2018 to record their next endeavor.  Featuring classic metal riffage and blazing dual lead guitars, this upcoming release caught the band entering its peak and was quickly picked up by Black Doomba Records. Engineered by local stalwart Mike Montgomery and slated for a fall 2019 release on vinyl and CD, "Invocation of the Lucifer" is sure to please longtime Cult of Sorrow fans and add to the cult with a new legion of fans.sed around Traditional Witchcraft where the horned god, be it Lucifer, Satan, Pan, Cernunnos, etc., is not seen as a source of ultimate evil, but as a liberating force of nature. He frees mankind from the shackles and constraints of modern religion and social dogma, allowing one to live more in tune with their natural instincts, drives and the elements of nature," says frontman Jerry Lovett.
Read our review here.