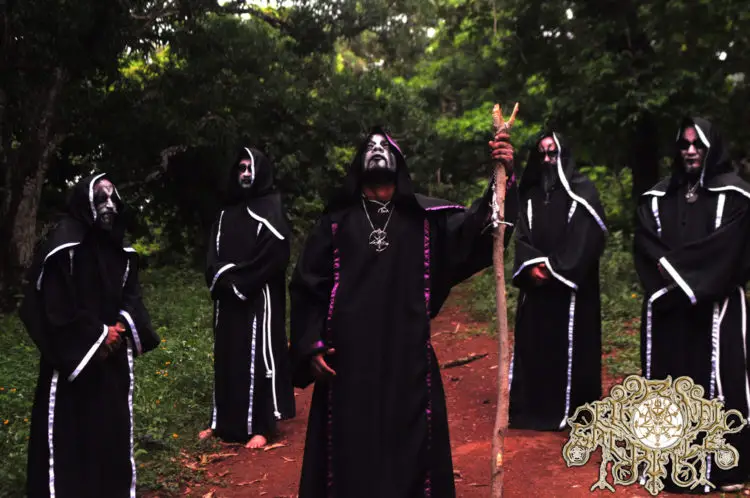 Eternal Sacrifice are a horde created at the end of 1993, to give vent to a whole concept inside Pagan Black Metal. Since always, using musical influences and literary of same vibe and, thus, creating a own and unique sound mass.
After many formations have taken place and independent demos have been released, in 2003, through the national label Maniac Records, the first album is released: "MusickantigA… Prédicas do Vero Báratro (Cantata Lúgubre, the Revival Rapture of the Shadows Cult) Atto I." The effort was probably the first of its kind to be released as a concept one, obtaining an excellent reception from critics and audiences at the time.
In 2004, prepared to record a new album, the same label of the previous release proposes that the band works in a MCD (EP), for better disclore, and thus arrives to the public the "Sonata Satanicka 666" containing four hymns, later they were reissued in Split tape format with the band Black Angel (PER), via Chilean label Odio & Repulsión with limited edition of 500 copies, as well as in Split 3way with bands Black Angel and Septic Moon (MEX) via Mexican label Omeyocan in 2011 in CD format.
In 2010, through brazilian label Blasphemy Production, the horde's second full length was released named: "Iluminados por Thanatherous Aleph… MusickantigA (Macabre Operetta: The Magickal Revival of Books, Pacts and Holy Writings) Atto II," which is the end of the concept started in the first album, also very important to spread expand the name Eternal Sacrifice into underground scene.
In 2014, the band recorded a tribute song to the band Headhunter DC called "Contemplation (to the Fire)," which came to be part of the tribute album released in 2016 by Mutilation Records, "Born to punish the skies… A deathmetalic brotherhood in darkest mourning for god, tribute to Headhunter D.C." (Volume 2).
In September 2018, "Ad Tertium Librum Nigrum," Eternal Sacrifice's third concept album was released in a physical format (deluxe slipcase digipack CD) via Hammer Of Damnation and later streaming via Sangue Frio Records. This effort keeps the whole experience of a band that celebrates 25 years of road and has always in the luggage a secret to reveal.
LINE UP:
M. T. L. H. Anton Naberius: Vocal
Charles Lucxor Persponne: Lead Guitar
Marquis Orias Snake: Lead Guitar
Sado Baron Szandor Kastiphas: Keyboards
Frater Deo Sóror Comite Ferro: Drums
Read our review here.