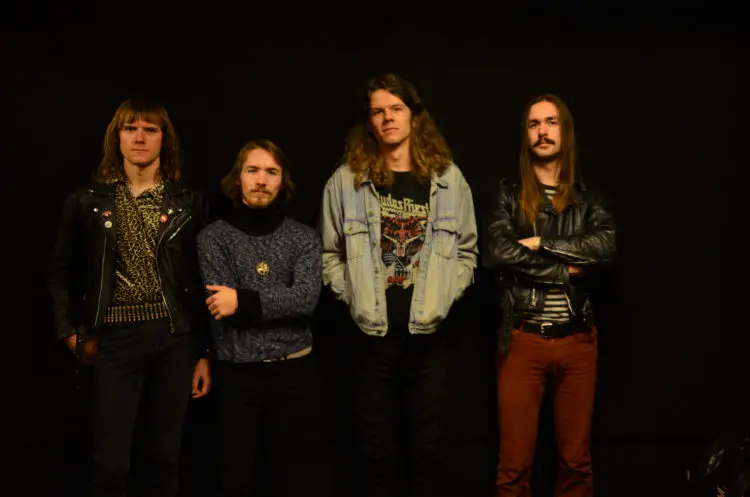 Oslo's FLIGHT originally started out as a trio in 2012 with Chistoffer Bråthen on guitar and vocals, Jonas Bye on bass and Herman Holen on drums. In 2013, the line-up was completed by Kristian Ingvaldsen on second guitar. Following a compilation appearance on "Well 'Eavy Vol. 1," the band's self-titled debut album was released by Bad Omen Records in 2015 and was premiered at London's "Live Evil" festival.
FLIGHT's overall sound is rooted in classic late 1970s heavy rock, with inspirations drawn from Judas Priest especially, but also from bands such as Di'Anno-era Iron Maiden, Winterhawk, Saxon and other British acts such as Camel and Pink Floyd. After a further 7" single was issued on Bad Omen Records, Flight were looking for a new label, as bassist Jonas Bye explains:
"When we looked for a fitting label for our second album, High Roller Records was our first choice and the only label we actually contacted. They have lots of amazing releases in their catalogue and it will be great to have our record next to those. As a label, High Roller Records have been great to deal with."
"A Leap Through Matter" is the name of FLIGHT's second album, certainly a much stronger record than the debut. Jonas Bye has the full story:
"Almost the whole debut album was written in our first two or three months as a band, mostly as a trio. "A Leap Through Matter" took a lot longer time to write, and it has much more complex songs, regarding the arrangements, riffs and transitions. The new album has been more of a collective work from start to finish, with lots of different ideas been thrown around and worked with. I'd say the main difference is complexity, which often is a hit-or-miss with bands evolving from their first to second album, but I believe we've made a much better album with "A Leap Through Matter." I think we do have evolved, as most bands do. We've written better songs with more interesting structures and have spent more time layering the sound, both in additional guitars tracks, and vocals."
Read our review here.