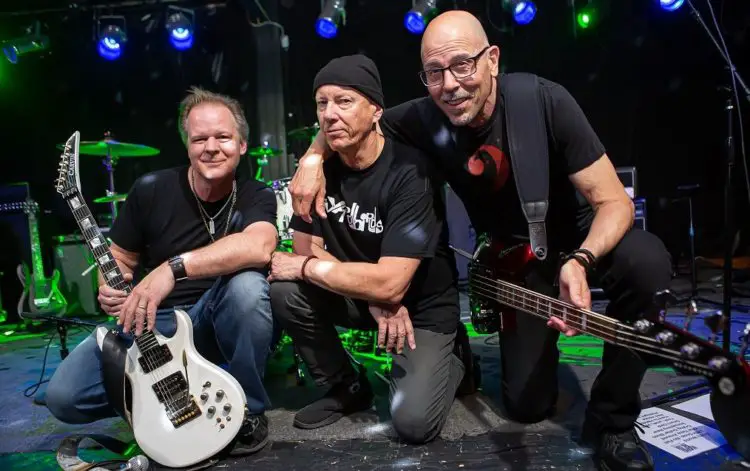 Memorable grooves, killer guitar, engaging vocals, and a solid rhythm section. This is the spirit that ignites Hard Blue. Not a cover band, not a tribute band, but an original band that delivers a contemporary approach to the music you fell in love with. The energy you remember. A sound you'll never forget.

As the name implies, Hard Blue is a melding of two timeless musical genres:  Blues and Rock.  As a result, the music of Hard Blue is relatable to a broad range of ages and audiences—familiar, yet original. The catalog is upbeat and intended to get the audience moving.
Hard Blue are the perfect band for promoters looking new acts at festivals, or club owners looking to support headline artists. The self-titled debut album was released in 2019, with their 2nd album released in 2022.
Hard Blue Members:
Hard Blue began in the mind of Shaun Skillin—guitarist and lead vocalist with a tremendous musical catalog developed over decades of performance in southern California and Denver.  Shaun picked up his first guitar at age 10.  Shortly after, he wrote his first song – a blues-based rock number – and has been writing in this genre, among others, ever since. Shaun brings his Bluesy, Rock style lead guitar and vocals to Hard Blue with live and recording experience going back to his teen years in the late 70's.  Upon moving to LA in his early 20's, Shaun performed with several acts (Diamond Romeo, Power and Gasoline Alley) performing famous venues including The Whiskey A Go-Go, Gazzari's and the world-famous Troubadour, as well as festivals in LA and Orange County.  Since moving to Colorado, Shaun has continued his songwriting, producing and Recording Engineer roles.  Hard Blue represents his dedication and commitment to this style of music, something that "just feels right and is easy to express myself".
However, bringing the music to life required a solid rhythm section to provide the right drive.  That drive is provided by Craig DeWolf (drums and percussion) and Jim Hayek (bass/vocals/songwriter)-each bringing talents from their own vast musical experiences from coast to coast. Together they perform the music to a level that exceeds what is expected from a trio.
Jim has been slappin' de bass for longer than many of our fans have been drawing breath.  He has played across the country from Florida to California, providing the groove in all genres from rock, funk, and soul, in groups big and small. He is also a vocalist and songwriter, and designer of Hard Blue's graphic imagery. Bass influences: Macca, Entwistle, Jack Bruce, JP Jones.  "Bands without a bass player suck", Jim states emphatically.
Craig hails from Chicago where he honed is blues chops beginning in middle school.  Since then he resided in both New York and San Francisco and was an active member of the music scenes in each–playing a cross section of music from horn bands, to progressive jazz and rock–as well as performing the (now classic) rock songs of the day.  While this diversity provided plenty of experiences across a number of musical genres, Craig's talents excel in power trios—no doubt due to influences like Mitch Mitchell, Keith Moon and John Bonham.  This assures both ends of the "Rock" and "Blues" spectrum is adequate covered.
Band Line-Up:
Shaun Skillin, guitar and vocals
Jim Hayek, bass and vocals
Craig DeWolf, on drums and percussion.
Read our review here.