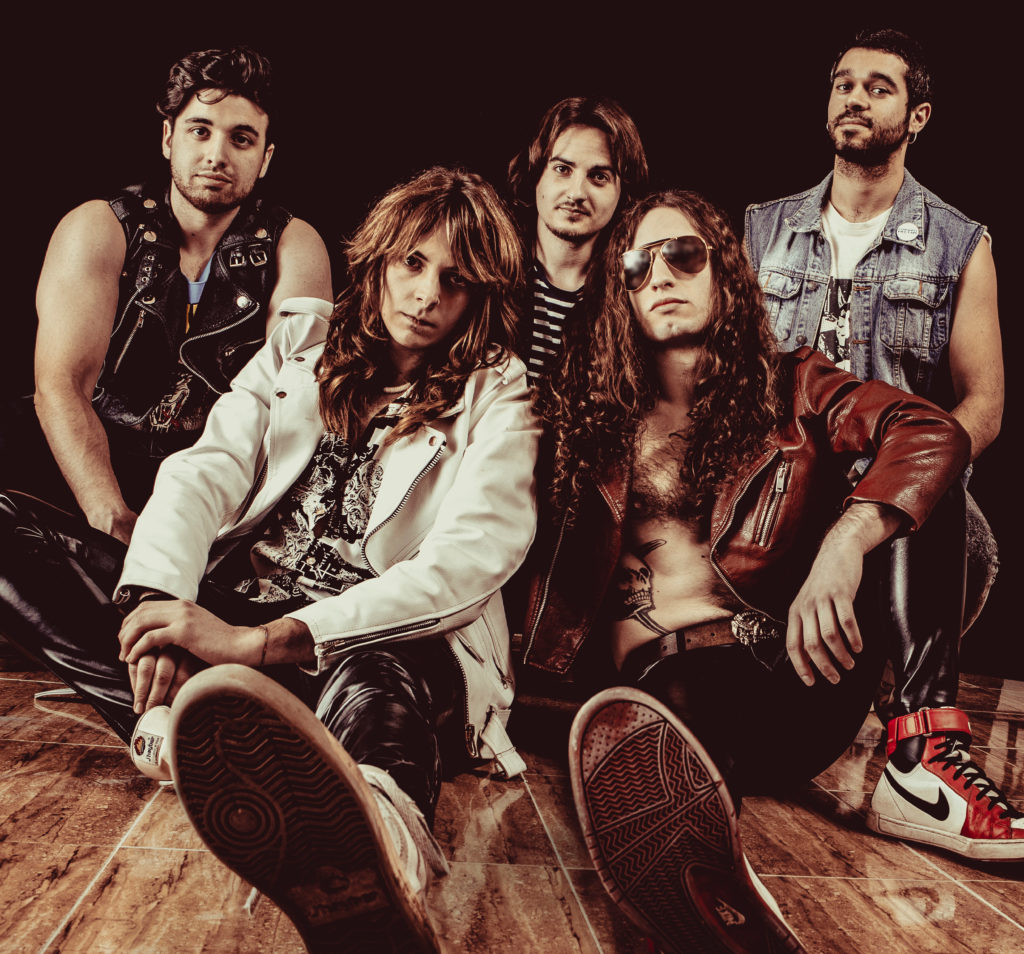 HITTEN formed in 2011 in the city of Murcia in the South-East of Spain (near Alicante). The same year the band issued their first demo entitled "Darkness Queen." Two EPs and one full album entitled "First Strike With The Devil"  2014) followed, before Hitten signed to High Roller Records for their second full-length record "State Of Shock." With captivating heavy metal songs such as "Don't Be Late," "Endless Race" and "Eternal Force" "State Of Shock" was a clear improvement on the band's rather naïve debut effort, altogether a more rounded effort.
Founding member and guitarist Dani Meseguer cites Accept, Iron Maiden, Judas Priest and Saxon as HITTEN's musical inspiration, as well as US Metal bands such as Fifth Angel, Crimson Glory, Shok Paris and Metal Church.
"Me and the boys are pretty satisfied with how "State Of Shock" was received," explains Dani Meseguer. "The album reached a lot of shops, labels, magazines, and webzines all over the world. It also took us on a really good tour around Europe, we played cool festivals and appeared in Japan for the very first time. We are really happy with how High Roller Records works overall."
However, the period between "State Of Shock" and the brand new album "Twist Of Fate" saw some changes in the HITTEN camp: "In September 2017, our singer Aitor played his last show with HITTEN and then left the band. As we all know, it's very hard for a band to find a new vocalist. Well, not for Hitten though. Alexx is a gift from heaven, he was there for us at the perfect time."
"We are more than happy with the final result of 'Twist Of Fate'," continues Dani Meseguer. "From the cover art to the music, it's all high quality stuff. We truly believe that people who enjoyed "State Of Shock" are going to enjoy "Twist Of Fate" even more. The mix (by Javi Félez) and the mastering (Patrick W. Engel) is simply incredible. The album is full of crazy twin guitar passages, very emotional solos, high-pitched screams, vocal harmonies and powerful backing vocals … all the necessary ingredients for a great metal album! Alexx did a hell of a job with the vocals, he really is amazing. He has a very broad vocal range. He can perfectly sing in a low range but at the same time also go for those insane high-pitched screams that we all love."
Track Listing:
1. Take it All (4:27)
2. Final Warning (4:25)
3. Twist of Fate (4:21)
4. Flight to Freedom (4:33)
5. Svccvbvs (1:11)
6. Evil Within (5:28)
7. On the Run (4:34)
8. In the Heat of the Night (4:15)
9. Rocking Out the City (4:42)
10. Heroes (6:14)
Line-up:
Alexx Panza – Vocals
Dani Meseguer – Guitars
Johnny Lorca – Guitar
Satan – Bass
John Synhx – Drums
Read our review here.