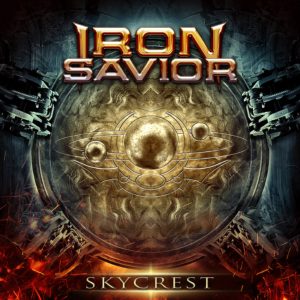 When I think of Iron Savior the first thing that comes to my mind is a Metal band from the 1990s that helped shaping the 1990s Metal sonancy. 1990s Metal sonancy is slightely different from 1980s though many bands mixed them both. I guess that in the 1990s Metal gets harder and faster. A great comparison is Judas Priest's "Painkiller" the album that paved the way for many bands. In fact, I guess it is much more near Power Metal than Old School Metal with diferences only in the themes.
"Skycrest" is the following album to "Kill or Get Killed" that we had the honor to review last year. It shows an Iron Savior that changed a bit their formula adding more melody and catchy choruses than the previous album or the debut albums from the 1990s. The band still kicks it, of course, but with some more melody. Opening track and its intro are great invitation cards to the album. "The Guardian" and title track "Skycrest" pave brilliantly the way to the other ten following tracks. "Skycrest" sounds pretty much as its previous predecessors from the 1990s when I met the band for the first time. I guess that the thing of "Our Time Has Come" is that it starts to add more melody to Iron Savior's cauldron of influences. It's fast and striking but with more singalong tunes.
As a matter of fact, "Skycrest" may be Iron Savior's album which has the most influences of the 1980s. Its sonancy is pretty near to it especially when it comes to tracks from "Hellbreaker" on. In fact, "Hellbreaker" has a great taste of Hard Rock and the Hard and Heavy. From it on the tracks get more balanced and cadenced with more melodic elements. I guess some could label them as Melodic Hard Rock for this.With a quick highlight to "Raise the Flag of Metal" which as the tradition goes is an anthem to our beloved Heavy Metal and a very interesting track. Of course, as their peers from that time, there is a ballad. Not really a ballad due to the lyrical content, but a slower song with a lyric that tells hard. "Ease Your Pain" gives the album the golden touch of the 1980s and it's kind of a gran finale.
Well, Iron Savior's hardcore fans may strange this "Skycrest," but there is no reason of blowing it away.
Iron Savior "Skycrest" will be released on December 04th via AFM Records.
Track Listing:
The Guardian
Skycrest
Our Time Has Come
Hellbreaker
Souleater
Welcome to the New World
There Can Be Only One
Silver Bullet
Raise the Flag
End of the Rainbow
Ease Your Pain
Ode to the Brave
Watch "Raise the Flag of Metal" official video here:
998