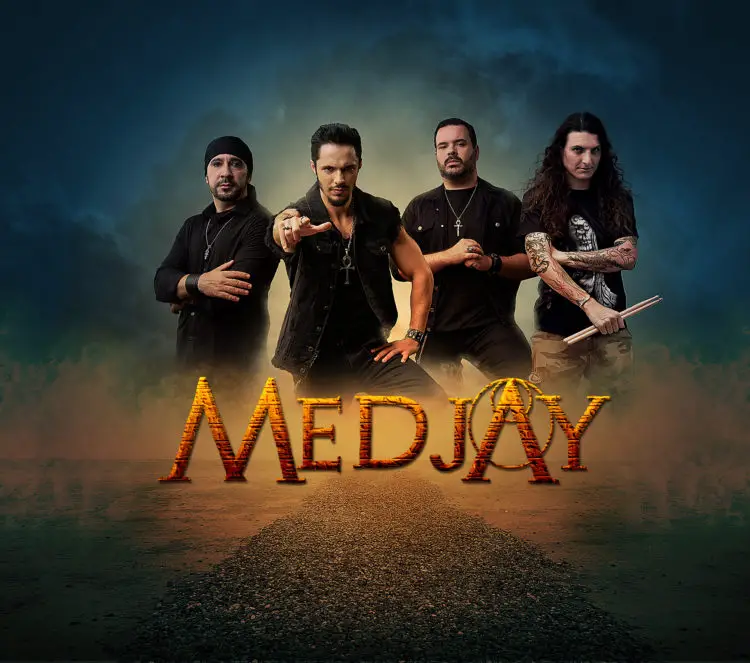 Medjay were born when Samuka decided to form a serious original Power Metal band in which he could develop in its melody, lyrics and concept some elements of Egyptian Culture and Mythology. In order to do so, he gathered experienced musicians to take part on this project. During his time with Dynasty of Metal, Samuka and Tiago Vitek (Drummer that recorded Sandstorm album) toured across Latin America with important bands such as Shaman, Korzus and Stryper. Freddy Daniels, known for outstanding collaborations with the bands Brave and Helltown was recruited on guitar. To complete the team, Samuka watched on You Tube Phil Lima performing Still Of The Night (Whitesnake) and Fear Of The Dark (Iron Maiden), invited him for an audition and it was an instant match! Phil is also responsible for most of the guitar solos.
Shortly after the band was formed, on February 28th of 2019 the first single, 'Death in the House of Horus' was released as a lyric video calling attention of Rafael Bittencourt (Angra), who ended up being Medjay's mentor in this project. He helped developing the band's concept with all his expertise built over 30 years of hard work and success in the music business. He also took part on the composition of the song 'Rise for Glory.'
On June 16th of 2019 an authorized tribute to Iced Earth has been released with participation of May 'Undead' Puertas, lead singer of Torture Squad. This song features as a bonus track on the album "Sandstorm."
After a long songwriting work by Samuka and Phil Lima and many rehearsals for the development and final arrangement of the ideas, Medjay went to São Paulo (SP) to record the album "Sandstorm" at Ninrod and Dharma Studios between the months of November and December of 2019. The Arab percussionist Marco Herrera joined the band with several instruments to bring an organic and true atmosphere to the songs.
Due to complications with Covid-19 pandemy, the album was brought to Belo Horizonte (MG) where it was mixed and mastered by André Cabelo at Engenho Studio and released on November 21st of 2020.
Shortly after the album "Sandstorm" was recorded, Tiago Vitek decided to move on with his other projects giving space to an internationally renowned drummer: Riccardo Linassi. Graduated in music, he's also drummer of the bands Age of Artemis and Dinnamarque.
The final product is an album that takes us on a journey to Ancient Egypt through Power Metal. Quoting a small part of a review made by a Metal Blog from Poland (Power Metal Warrior), '…the album may please fans from bands such as Myrath or Orphaned Land but Iron Maiden or Helloween fans may also find it very interesting. Should we call it a classic, but also modern Power Metal with Arab musicality present in the right amount to make it great'.
Currently Medjay cannot play live shows because of the difficulties created by the Covid-19 pandemy. The tour besides renowned bands of Brazilian Metal Armored Dawn, Korzus, Dr. Sin and Jimmy and Rats initially scheduled for May of 2020 has been postponed to March 2021, but due to the current world scenario, it is very likely to be postponed once again hoping for a better future to take this project on the road soon.
However, this dreadful pandemic isn't only bad news, Medjay took this time to work on the new album that will be entitled "Cleopatra VII'. It is in pre-production phase with 12 songs and being produced by Brazilian guitarist Tiago Della Vega (Vikram) and Medjay to be released in 2021… So stay tuned!
Band Line-Up:
Samuka: Bass Guitar, Backing Vocals
Phil Lima: Lead Vocals, Guitar
Freddy Daniels: Guitar, Backing Vocals
Riccardo Linassi: Drums:
Read our review here.