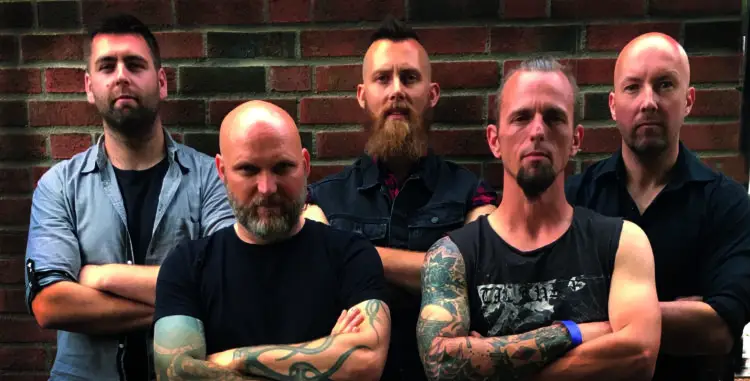 The Norway-based metal band MELTDOWN will release "Deadringer", their second album on October 25th 2019 on Rambo Music/Fifth Island Music AB/Sony Entertainment AB.
The album – which features cover artwork by Mike D'Antonio (bass player in Killswitch Engage) – has been mixed and mastered by the legendary Fredrik Nordström at Studio Fredman in Gothenburg, Sweden (not only has Nordström worked with, but also formed and shaped the genres and early sound of bands like At The Gates, In Flames, Hammerfall, Sabaton, Arch Enemy, Dimmu Borgir, Architects and many, many more).
Says guitarist and founding member Jørgen C. Hansen: "This album combines what this band is all about: tons of heavy riffs, hard-hitting and bone-crushing metal, and melodies on top of it. The songs are really strong and represents the great chemistry of our line-up. We wanted the best person to capture our sound in the mix and master, and we got it with Fredrik Nordström. He did an excellent job. We also wanted great artwork for the cover and other band-related stuff. We hired Mike D'Antonio in Killswitch Engage because he obviously understands our music and what we want, being a very gifted artist."
The single "Walls Down" will be released digitally on September 27th 2019.
Line-up:
JØRGEN C. HANSEN – guitar
TOR AUDUN JOHANSEN-SØRLI – guitar
STEPHAN HAY – vocals
HANS-JACOB SOLBERG – drums
MORTEN NILSEN – bass
It is well known that the frostbitten north of Scandinavia is home to countless metal bands. Considering its small population, Norway has given the world an extraordinary amount of quality heavy music over the last three decades. Of course, it probably goes without saying that black metal remains its most famous musical export. But there is more to the country than just frosty riffs and corpsepaint, or skiing, viking landmarks and breathtaking fjords.
From the south eastern part of Norway comes the band MELTDOWN. In an area known for its cultural and industrial history, the band sounds just like this: tons of heavy riffs, crashing drums, thunderous vocals that is hard-hitting and bone-crushing metal. A Norwegian backbone, for sure.
MELTDOWN are five guys that brings a wide variety of influences to the music. The band combines several styles. The basis is tough and punchy metal with a nice mix of everything from metalcore to classic heavy metal. From the start we have taken this band our way and are not going to think about what the flavor of the month is, or to fit in this or that specific genre, subgenre or trend. We do exactly whatever we want to do with our music and our approach is very simple: is it good or not?
Formed in 2013, the debut album "Answers" was released in 2017 to many great reviews worldwide. The band received a lot of attention for the cover version of "Diamonds" released 2018.
With a partly new line-up, the band is ready to launch the second album "Deadringer" on October 25th 2019 after successful festival shows during the summer.
Read our review here.