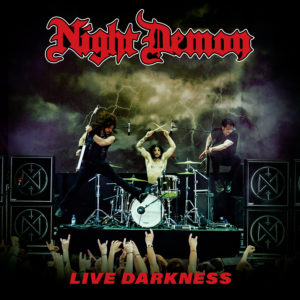 Alive albums were a kind of stapler in the good old days. A type of grounbreaking step to a band. Kiss, for instance, got famous because of their "Alive I." For such a demanding crowd as headbangers, it was a way to prove that the band could really play their instruments with some level of accuracy. Of course, there were some hoaxes as Ozzy's "Speak of the Devil" due to its famous overdubs and acting. Kiss were also accused of the famous, and infamous, overdubbing. But there is no way of denying their important role in a band's career as a mandatory step to stardom (who knows?). I do miss them as they are not that mandatory these days. This Night Demon "Live Darkness" is only the third I received in two years of reviewing.
I had the pleasure to review Night Demon's last effort, "Darkness Remains" which entitled them to one of the most vigorous band of this new NWOBHM scene. Read our review here. Alive albums are a huge oportunity to show the world band's mastery and the contact with their fans. Some may think it was too soon, "Darkness Remains" is only their second effort, but who can tell these days? This weird superstructure is killing everyone. Well, nevermind.
"Live Darkness" is a triple (?!?) CD which covers all their short career. And the band did it good. All songs are played nicely with a great response from the crowd. I personally liked very much the art cover. It brings back some dear memories, and, of course, represents very well the spirit of the band. A special highlight to "Heavy Metal Heat" and its crowd response. Live pics do the job so much better. I just love them. "Live Darkness" caps off very well all Night Demon's energy and sweat. A very good summer present to yourself.
Night Demon "Live Darkness" will be released on August 10th via SPV / Steamhammer Records.
Track Listing:
CD1
Welcome to the Night
Full Speed Ahead
Ritual
Curse Of The Damned
Dawn Rider
Save Me Now
Hallowed Ground
Maiden Hell
Mastermind
On Your Own
Life on the Run

CD2
The Howling Man
Black Widow
Ancient Evil
Satan
Evil Like a Knife
Stranger in the Room
Screams in the Night
Flight of the Manticore
The Chalice
Darkness Remains
Heavy Metal Heat
Night Demon
Watch "Life on the Run" official video here: