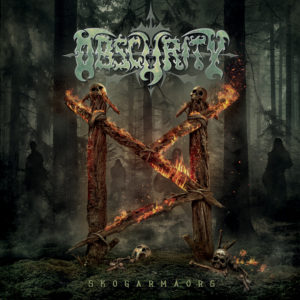 I've said before that it seems that record companies set up a common day for releasing a kind of Metal music album. One day is for Hard Rock, the other NWOBHM, the other Melodic Death Metal, and the list goes on. After reviewing Voidgazer for August 27th I now got this Obscurity "Skogarmaors," an album that doesn't have the same instrumental impact, but does a pretty good figure in applying the same abilities of mixing Death Metal vocals with NWOBHM instrumentals. By the way, this kind of vocals are wriitng a very long, and important, story in Metal music. The fan will instantly connect "Skogarmaors" with Swedish Melodic Death Metal wave and he's not wrong at all. This album does sound a lot as some albums recorded by Amon Amarth. But the same finesse I observed with Voidgazer I see here especially while listening to tracks as "Geist von Neuenberge."
Well, my fan here knows how I appreciate Melodic Death Metal and I cherish it as the best Metal achievement of many years. I believe that the best thing of Melodic Death Metal is the musical contradictions it delivers in combining harsh vocals with sharp and melodic guitars. Undoubtedly, "Skogarmaors" delivers lots of them. The finesse in the guitars here is the highlight. They are what makes this album so great and a delight to listen to. To hell who says "Ah, one more Amon Amarth lover. We're full of them." Maybe the one who says that doesn't understand the message whatever it is. Tracks as "Glod En Isa" deserve in the pantheon of the gods of Metal. It's heavy, it's cruel and at the same time, it's swingy. Its guitar riffing is simply delicious. The effect they make in our ears is simply wondrous. The kind of track that the fan must listen to million times. Or more if possible. Or how about the catchy vocals of "Glot"? Ah, a must listen million times as well.
Don't get me wrong, I do love Melodic Death Metal. I'm a fan of it and I don't think the formula is worn out as many say. The match between the aggressive vocals with the melodic guitars is a killer one, and I have I no doubt about it. When I listen to a track as "Legion" I get more and more sure of what I'm telling you my fan. The melodic twin guitars here save the day and much more. Obscurity built intrincate layers of guitars here. The fan will notice them as the song rolls on.
For some "Skogarmaors" may be one more album, for me it's the one more album.
Obscurity "Skogarmaors" was released on August 27th via Trollzorn.
Track Listing:
Wodanaz Kriger
Niedertracht
Ethnogenese
Konstantinopel
Geist von Neuenberge
Skogarmaors
Glod En Isa
Blot
Legion
Bergische Löwen Pt.2
Dies Ater
Schwertmission
Valkyria (Bonus Track)
Watch "Niedertracht" official video here: