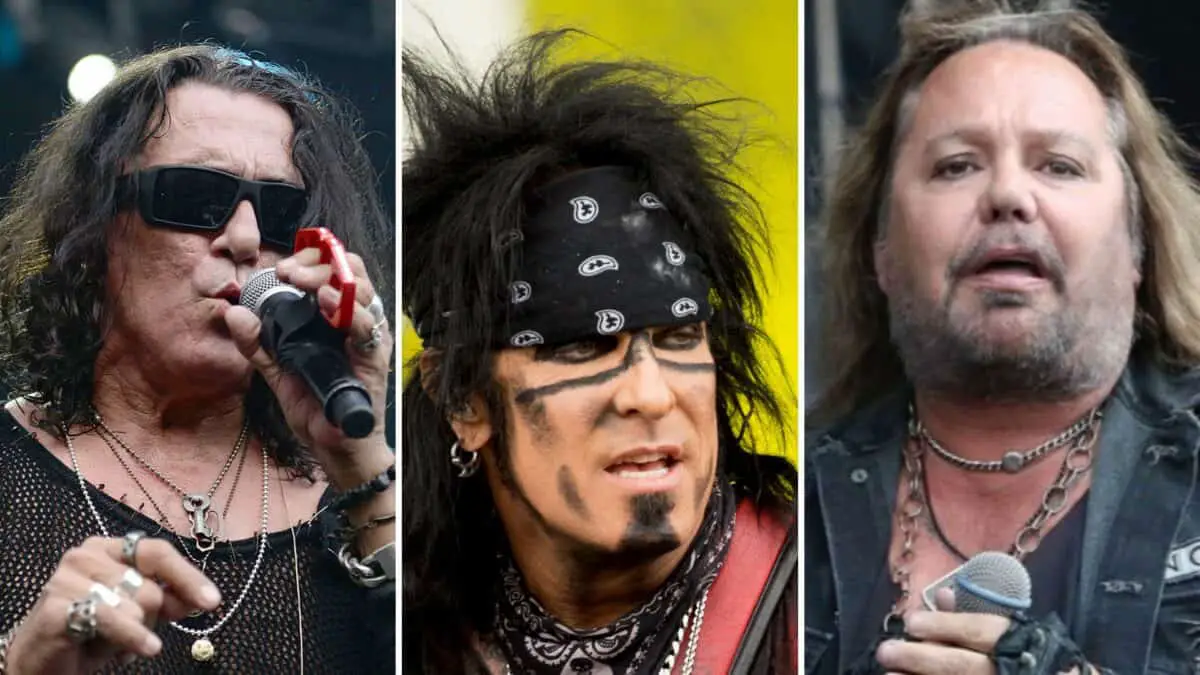 RATT lead singer, Stephen Pearcy, revealed that MÖTLEY CRÜE had been attempting to find a replacement for Mick Mars as far back as the early 1980s. He also mentioned that Nikki Sixx was supposedly "never really happy" with the CRÜE frontman, Vince Neil, either.
About a month ago, legendary drummer Carmine Appice made the news when he disclosed information shared by his friend and guitarist Mick Mars regarding alleged events that took place during last summer's The Stadium Tour, which featured MÖTLEY CRÜE, DEF LEPPARD, POISON, JOAN JETT & THE BLACKHEARTS, and CLASSLESS ACT. Among the claims was that Nikki Sixx's bass parts were pre-recorded.
Some time later, Mars gained attention as he filed a lawsuit against the band, alleging widespread use of backing tracks during live performances and accusing bassist Nikki Sixx of manipulating him into thinking he had lost cognitive abilities and guitar skills.
In the lawsuit, Mick alleges that MÖTLEY CRÜE reduced his share of earnings from 25 percent to a mere 5 percent after revealing his decision to withdraw from touring. Additionally, he states that the group's attorneys made him feel as if he should appreciate this minimal portion, as they believed they had no obligation to provide him with anything. Mick also asserts that a complete band gathering took place where they chose to "unilaterally" exclude him from MÖTLEY CRÜE.
Mick consistently alleged that bassist Nikki Sixx was "gaslighting" him by suggesting his guitar abilities were declining, even though Sixx didn't "play a single note on bass" throughout a recent tour, as stated by the guitarist. Mick asserts that all of Nikki's segments were pre-recorded.
CRÜE started making new music with John 5 amid all the confusion. John 5 stepped in as a replacement for Mars, who retired from touring due to his ongoing battle with Ankylosing Spondylitis.
During a new interview on the "Waste Some Time With Jason Green" show, Pearcy reflected on CRÜE lawsuit, saying: "Well, when I first got wind of that… Carmine's a great friend of mine, Carmine Appice. And when I saw that, I was just shocked that… He was so close to those guys too; Carmine was very close to everybody, and closer with Mick Mars. So unbeknownst to me too… I mean, look, I knew they did some of that tape stuff back a bit, but I didn't know it was so overblown, which is crazy. I just didn't like the disrespect. And you know what? I could give a s**t, man.

"I do [solo] shows with Vince [Neil]. Vince is my brother, man… That'll never change. We hit the Strip together. We were the gladiators together. Robbin [Crosby, late RATT guitarist] lived with Nikki. Yeah, I thought it was disrespect to brother Mick, as a gladiator. And to Carmine. I mean, holy s**t. That kind of bummed me out."
"You know what? Life's short, man, and a lot of us are dropping like flies. And you've gotta remember — this is 40 years later. The ones that are still standing should give respect to one another," he continued.
"So I was a little dismayed at the comment. But that's their trip; it's not mine. I could give a s**t… I understand what Mick's going through… "It's just a drag that it had to go there. And then it snowballed into something even bigger."
According to Pearcy, even in the early 1980s, the CRÜE were considering replacing Mick Mars, and they had their sights set on Jake E. Lee as a potential substitute.
"They tried to get Jake E. [Lee] from my band, from Mickey Ratt, when Jake E. was in the band," Pearcy said. It was, like, 'Are you never satisfied? You've got Mick right here. You guys are already Too Fast For Love. You're already doing your first record.' When they released that first record, Too Fast For Love, if I'm correct, we were still hanging and they were trying to swipe Jake E. It's very interesting to think about it, actually."
Asked if the rumor was true that Nikki Sixx and Tommy Lee initially aimed to establish a group with him and RATT guitarist Robbin Crosby prior to Vince Neil joining, Pearcy said: "You know, I don't know. It's, like, he [Nikki] was never really happy with him [Vince] either. Hence John Corabi. I don't know. You know what? It's a shame, because right now we should all be embracing this '80s scene.

"I mean, they're out doing the stadium thing for the second time, except there's a little fart in the road. But it tells you how much people are still grooving on the '80s and miss it and want it, and they really don't give a s**t how they get it sometimes."