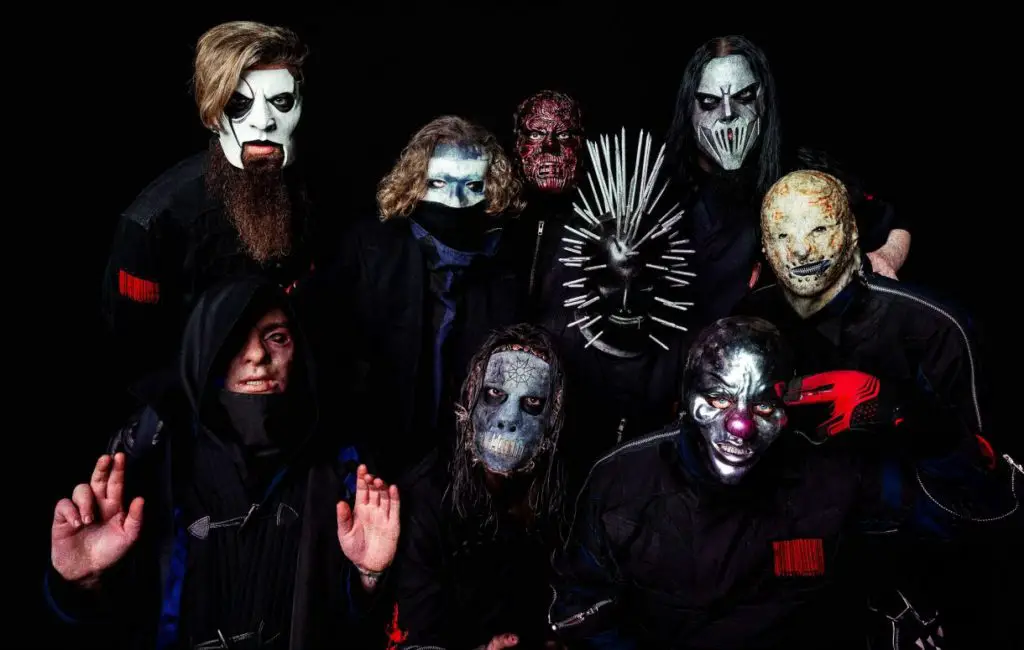 During the recent interview with Music Week, SLIPKNOT percussionist M. Shawn "Clown" Crahan discussed the current state of the music industry and if the records sales still mater.
He said: "What's important is what's always been important for me, and that is to be able to get the demons out and to be able to perform. I like to live through music and I like to take my pain and music and perform it in front of people who like to let out their pain and love. That's number one.
"Record sales have never meant anything to me ever, and I'll tell you why.
"I'm sorry I don't know the exact fact, but I want to say it was [2008's] All Hope Is Gone that finally helped [2001's] Iowa to be certified platinum. Business begets business.
"From the time Iowa came out until the time it went platinum which was many, many years after, all I heard from people was that 'Iowa' was the greatest metal album of all time but, f—k, it didn't even go platinum until our fourth record. If I got caught up in record sales I would drive myself mad."
When asked what can music industry leard from SLIPKNOT's story so far, he replied:
"I'm going to tell you, it's easy, but I don't know if it's easily understood. All I know is you can walk outside your house right now and everything you see is somebody else's idea. We live in a very, very, very fake world of safety.
"When a band like TENACIOUS D can win a metal Grammy with a cover [the duo won a Grammy in 2015 for a cover of DIO's "The Last in Line," beating SLIPKNOT's single"The Negative One"], I mean, you tell me what they need to learn…
"What act do you have at something like the Grammys that is better than SLIPKNOT? What you can learn from us is: 'Why aren't you letting us in?' It's because then you'd have to let more [like us] in, and then your show would change, and then your magazine would change and then your TV channel would change.
"I get it, but see what I said first is that we all live in somebody's else's idea. What you can learn from SLIPKNOT is this is our idea, and it's not a very general idea to allow in because it's very extreme. I understand that.
"But if you're not letting us in, you must not be letting a lot of stuff in, and isn't that disservice? We perform real pain and give a real insight about human life and the experience of living reality – why are we not being invited in?
"I'll tell you why, because everybody's comfortable with the way things are, and I'll tell you what, man, things aren't good. Let's learn how we can change. You might get healed, you might find some redemption and salvation."
Earlier this week, SLIPKNOT have unveiled details of their very own craft spirit, No. 9 Iowa Whiskey, which will be available this summer at select retailers in all 50 states and at the band's headline Knotfest Roadshow North America tour. A collaboration with the Iowa-based Cedar Ridge Distillery, No. 9 Iowa Whiskey (90 proof) and No. 9 Reserve Iowa Whiskey (99 proof) are made with corn from the award-winning distillery's family farm in Winthrop, Iowa.
SLIPKNOT will release their sixth studio album, We Are Not Your Kind, on August 9 via Roadrunner Records.
In March, SLIPKNOT announced the departure with the percussionist Chris Fehn after he filed a lawsuit against his band members over unpaid loyalties.
In his lawsuit, Fehn claims to have always been told that the money from merchandise and touring is funneled through one sole company that splits profits and pays the members of the band. However, Fehn claims he recently discovered that his bandmates have set up several other SLIPKNOT-affiliated business entities in different states that appear to be collecting money from the band.
SLIPKNOT have refused to reveal the identity of the new member, who is replacing Fehn, but some fans on Slipknot Reddit had speculated that Zach Hill is the new percussionist, and said they saw him at Jimmy Kimmel Live.