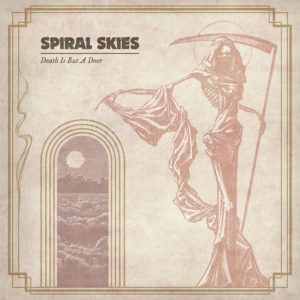 An album with a different mooding. Besides the music in here, what attracted me the most was the album tittle "Death Is But a Door" which opens the door – no pun intended – to many philosophical and religious paths to discuss. Spiral Skies go deeper here than they did in their 2018's "Blues for a Dying Planet" whose tittle speaks for itself. As I said million times here, I just love a band with an agenda. Of course, whether it comes with female vocals the better.
The music in here is as inspiring as the tittle. Spiral Skies maintain their Heavy Rock and proto-metal influences in the mix. Now, on a second opportunity I find the band much more early Judas Priest in the "Sad Wings of Destiny" era or even better in their "Rocka Rolla" era. The overtones address a lot to that album. But I still stick to the heavier Jefferson Airplane with distorted guitars. Opener track "The Endless Sea" tells this tale. Coven are also an outstanding influence. Frida's melodic voice showcases some melancholy that enriches the songs. Melancholic but still warm. Who can tell, but my dear fan understand my quote. The one who loves music for the music will understand. Melancholy is a part of life. Moreover, an important part of life. As Spiral Skies and their music are getting into mine. "Into the Night's" melody tells me so touching my heart with a warm embrace full of melancholy. So is the guitar duo whose twin phrases emphasize this mooding. The girl really knows to do it. Following track "Somewhere in the Dark" has a thing of Van Halen, but it isn't the guitar. It's the drumming which addresses to "1984" drums overtones. Maybe a mix of Van Halen and Coven if that monster could even be possible. No, wait! It is and it is now playing here! Now, "Heart of Darkness" has the guitars inspired on the mood and overtones of no one else as Black Sabbath. Here we have a band that knows how to reinvent themselves.
Here we've got an album whose tittle "Death Is But a Door" is somewhat linked to its music. Well, at least I can see the relation. The mood of "Nattmaran" tells a lot about this. Death is but a door…
"Death Is But a Door" was released on March 25th via AOP Records.
Track Listing:
The Endless Sea
While the Devil Is Asleep
Into the Night
Somewhere in the Dark
Heart of Darkness
Nattmaran
Time
Mirage
Mirror of Illusion
Watch "Somewhere in the Dark" official music video here: