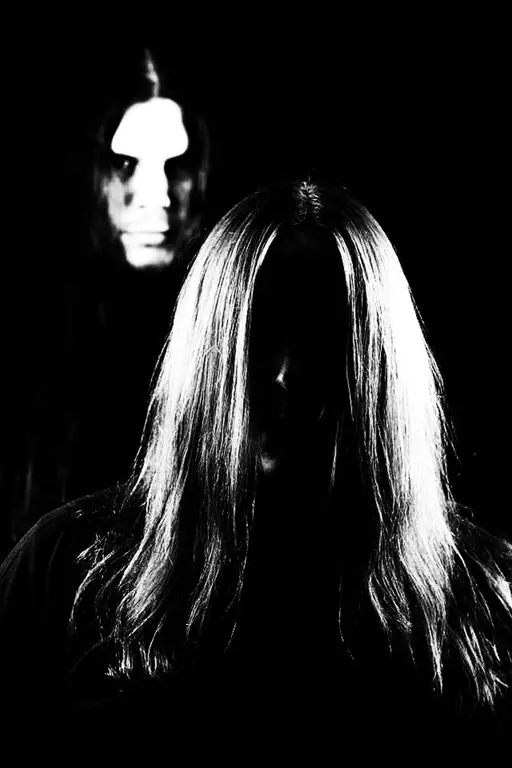 While most bands focus on earthly matters, some look beyond the immediate and meditate on possible futures for humankind. Stellar Master Elite are one of these bands, and their fourth album "Hologram Temple" asks probing questions about the converging point between man and machine, wrapped in a crushing envelope of black metal, doom and experimental electronica. Thundering fuzzy guitars meet pulsing rhythms and cosmic analogue synthesizers – the perfect stage for an an authoritative growl to lead the way.
"Hologram Temple" deals with the logical development of evolution and technology, and the resultant consequences for science and the theoretically possible and quite probable, illusory nature of the reality known to us. Where does overcoming mortality lead us? With the help of neuronal interfaces we will be able, without the limitation of a mortal body, to overcome distances unimaginable today, to colonize distant planets and to save mankind from its already sealed downfall. The colonization of entire galaxies can also be considered – "a new galactic empire". Unless life-forms that have already passed through this evolutionary development conquer us and our habitat long before we could have taken this step ourselves. In this case we are all lost and never had a chance.
Another influence of the album are Philip K Dick's stories and theories about androids. Dick's visions that we are already living in a hologram are also covered, as well as experiments with artificial intelligences that get out of hands. What happens if such an AI gets out of control and becomes dangerous for its creators and their environment?
As guests, E.K. once again makes an appearance, who sang most of the songs on the last Stellar Master Elite album. This time he is represented with two songs. S.K., who already sang on "I", has sung three songs. There are members here who have connections to the theme of the album through their profession. For security reasons, further information is watertight. They could reveal it, but then you would have to be destroyed…
 "Hologram Temple" will be released as a double record in audiophile 180g format with etched side D and as a noble Digibook. Both publications receive a finishing by Hotfoil Embossing.
Read our review here.