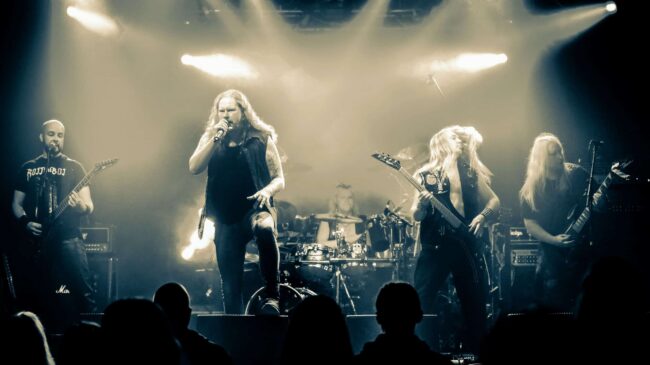 Strider are a band formed by five True Metal enthusiasts. We grew up listening to the likes of Manowar, Dio and Accept and empowered by their music decided to create our very own brand of True Metal. We are old-fashioned enough not to believe in editing our music with computers, which is why our album sounds exactly the same as we do in a live environment.
We don't want to use dishonest computer gimmicks on our albums, just to focus on great songwriting and crushing delivery instead. Our music is honest and, most importantly, true! Our first album "Dominion of Steel" was released in 2019 and we had quite nice success in the Baltic countries and Polandwhile touring in the spring of 2020. Our second album "Into Glory Stride" will bereleased on Nov 4th 2022, and we will continue to conquer the world with the powerof True Metal.
"Into Glory Stride" is Strider's second LP. In the process of making the first album we noticed that the biggest challenge is to get great drum sounds on the album. Because we strive to the end to avoid everything artificial in our music, using sample sounds was out of the question.
After much deliberation, Finvox studio was selected as a recording location. 47 microphones guaranteed that we got a really plush organic sound on our record. Guitars, bass and vocals were recorded at home, just like on the first album. The album was again mixed by Kari "Huikka" Huikuri and mastered by Esa Orjatsalo. The cover art was done by Roman Ismailov, known for the cover art of Battle Beast and Beast in Black among others.
"Into Glory Stride" continues where the previous album left off. The group is more welded together, which can also be heard on the disc. The musical genre is traditional heavy metal. Two unnamed gentlemen are heard as visitors who handle the voiceover parts on the space topic to the song "Striders of the Universe," and to the album's closer "Tale of the Terrible Witchking."
A keen ear might suspect that the guests would be Sir Patrick Stewart, as well as the late Sir Christopher Lee, but whether this is the case remains a mystery.
Band Line-Up:
Niko – Vocals
Eemeli – Guitars
Ville – Guitars
Tuska E. – Drums
Mardewar – Bass
Discography:
Dominion of Steel 2019
Into Glory Stride 2022
Read our review here.