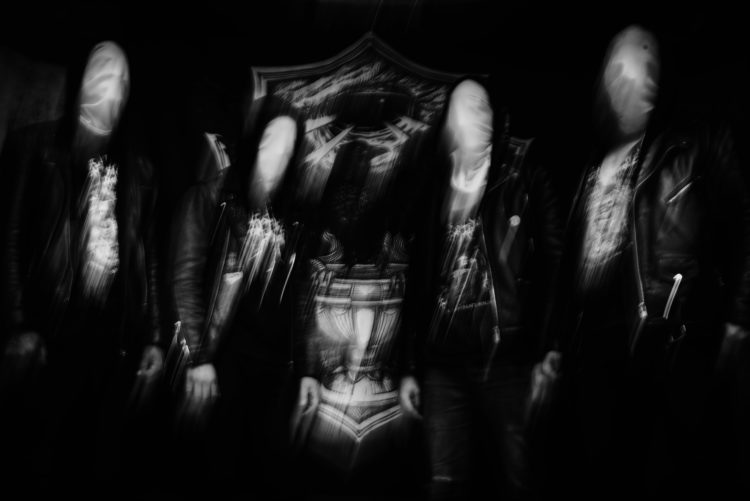 I am the flame that burns in every heart of man, and in the core of every star. I am Life, and the giver of Life, yet therefore is the knowledge of me the knowledge of death.
-Liber Al vel Legis 2.6
On the 3rd of December 2018, six years to the day after the apocalypse, Svartidauði will unleash long awaited sophomore full length "Revelations of the Red Sword" upon the ashes of civilization. Once again recorded and produced at Studio Emissary by Stephen Lockhart and featuring artwork by David Glomba, the combined result is equally stunning sonically as it is visually. The 6 track, 47 minute album marks Svartidauði's second release on legendary German imprint Ván Records.
The Red Sword refers to the rays of a rising- and a setting sun, encompassing its contents in the fire and the fury of our world's most creative and destructive force, the glowing God up above, the Sun – Celebrating its howling solar winds, all the while waiting with anticipation for the inevitable heat death of the universe.
Svartidauði's signature musical style is on full display throughout the album; simultaneously disharmonic and lyrical guitar harmonies are woven over raging and inventive drum work and quasi-tribal rhythms, crawling basslines and lycanthropic howls. But although unmistakably Svartidauði, "Revelations of the Red Sword" has plenty of unexpected twists and turns, demonstrating the band's increasingly broad spectrum of songwriting elements. "Revelations of the Red Sword" is the fire to "Flesh Cathedral"'s earth; a Promethean and daring work of creation unfettered by trend or tradition.
Truely an album of two halves, the album's A-side is Svartidauði at its most direct and deadly. Triumphant opening "Sol Ascending" showcases the band's classical Black Metal leanings and sinister harmonies present in earlier works such as "Sterile Seeds" and "Psychoactive Sacraments," leading to the deranged serpentine fury of "Burning Worlds" of Excrement and into the militantly marching warped arpeggios of "The Howling Cynocephali."
Now onto side-B, the descent into madness grows ever steeper. "Wolves of the Red Sun" opens the second act in a menacing funereal procession before erupting in a burst of frantic oriental melodies. "Reveries of Conflagration" slowly ascends from the smoke, building up into a tempered yet evocative epic culminating in yet another world-ending crescendo. Not to be outdone, "Aureum Lux" concludes the album in a befittingly apocalyptic manner. Mournful dual-guitar arpeggios lock horns and entwine, the song then takes off into a raging pitch-black sea and finally dissolves into monolithic doom.
Svartidauði will embark on a headlining tour through Europe in late May-early June featuring special guests, along with several festival performances throughout 2019.
Read our review here.